Treating Hong Kong's revolt against Beijing's encroachment and government illegitimacy as a law-and-order problem isn't working. So let's treat it as a law-and-order problem masterminded by evil foreign forces!
Beijing's first attempt at imposing a depressingly incompetent leader on Hong Kong – Tung Chee-hwa – was, looking back, pretty lame. (He was halfway nice; he tried to empathize; he appeared sorry. Complete amateur.) It took second and third tries in the form of increasingly disastrous Donald Tsang and demonic-as-well CY Leung, before the CCP hit the target with zombie-bureaucrat Carrie Lam, who has pushed the city up to the edge of its ultimate death-spiral as a free society.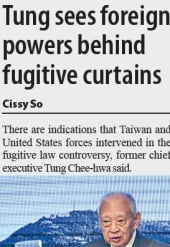 But poor old Tofu-for-Brains seems to be having one last go, declaring that Hong Kong's recent unrest has been stirred up by Taiwan and the US.
He is, sadly, showing his age*.
There was a time when a KMT-run Republic of China police-state on Formosa engaged in such devious shenanigans as assassination attempts against Communist leaders on foreign soil and secret nuclear weapons development with Israel and South Africa. Today, under democratically elected cat-loving Tsai Ing-wen, Taiwan's boldest overseas subversion strategy is to organize international aboriginal children's dance festivals. (And, in fairness, some magnificent trolling.)  
As for the US, China should arrest the CIA agitator operatives as spies and break off diplomatic relations – or shut up. Of course, it's not that simple. The ranting about foreign interference is aimed at boosting xenophobic patriotism among Mainland audiences (for whom the sight of white faces at a demonstration in Hong Kong is otherwise inexplicable). And, in a way, the paranoid CCP spokesmen do have a point, if by 'foreign forces' they mean abhorrent alien ideas like free speech, rule of law and human rights.
Elsewhere today in Stories You Are Supposed to Take Seriously…
Revealed: the PLA's plan to take control of Hong Kong. Sort of what you would expect, although the procedures described here seem to give a lot of decision-making authority to the Hong Kong government, which as we all know is a largely fictitious body right now. But the key message is: an out-of-control police force freaking out with tons of tear gas is actually A Good Thing For You and reassuring because it keeps the Chinese military out.
Also revealed: why Beijing is choosing Shenzhen to be the special dragonhead powerhouse innovation tech trailblazer for the Bay Area Hub-Zone. It's all because waffle blather visionary development yah boo. And the key message is: because you people in Hong Kong are very very naughty and ungrateful and disobedient, you must be punished and suffer – so no special themed tech inno-hub-zone for you [angrily slaps 'quasi-first-tier city' sticker onto map].

Finally, a scintillating glimmer of hope for a win-win resolution to the Hong Kong crisis casually appears towards the end of this article on the economic cost of the unrest. If Beijing fails to stop screwing up Hong Kong, the writer argues, it will discourage international involvement in Belt and Road. (Pause for effect while cosmic profundity of full awfulness sinks in…) Makes sense? Doesn't make sense? Who cares? Worth a try!
*Many lament. It's a tragedy that those who get sucked into the CCP system must spout whatever inanities they are told to. The distressed and miserable look on the face makes it all the more painful to watch.