Taipei – in all its unpretentious, dowdy, semi-charmless, anti-glamorous humdrum-ness – has never felt more inviting and idyllic than when updates are coming through about police-abetted triad thugs beating up helpless bystanders in Yuen Long MTR.
Being out of town, I unfortunately missed the coverage of Carrie Lam visiting the gangsters' victims in hospital to make it clear where she stands, or of the Police Commissioner angrily vowing to root out the mafia-connected senior officers in his command structure to restore some shreds of public confidence in the force.
But I did get the impression that whoever it was in the police who coordinated with the mobsters felt he has impunity or serious protection – of the sort available from a higher authority than our own inert, inept and inconsequential local Hong Kong government.
No wonder this sorry rabble look suicidal…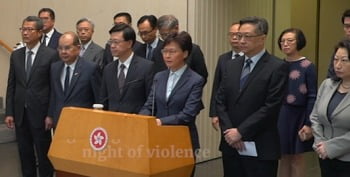 After a few days away, it is hard to catch up with this unfolding nightmare. The cops are abandoning any hope of credibility and offering near-childish excuses for their mysterious non-performance in Yuen Long. They have also banned a demonstration up there on Saturday – a cynical and self-serving (and frankly understandable) decision that increases the chances of mayhem while enabling them to shift the blame on to protesters. Civil servants are anonymously voicing support for the opposition, and yet more former officials we had forgotten about call forlornly, not to say naively, for sanity.
Beijing's official press are – you could half-believe – puffing up Junius Ho as the next Chief Executive of Hong Kong (imagine CY Leung but without the tolerance, tenderness, warmth and empathy). Mainland social and some official media are full of praise for the patriotic Yuen Long white-shirts defending the motherland, and are warning of an impending Color Revolution, stirred up by the CIA, which uses the biting-off of cops' fingers in places where civilians do not own firearms. The South China Morning Post chimes in with Will the PLA Come and Kill Us All?
I declare the weekend open with some good news: the West Kowloon Cultural Hub Zone is disappearing into the netherworld.