The Hong Kong government's finest minds (!) are currently working overtime exploring ways our top leadership can Connect With The Community. Unfortunately, they must operate under several constraints.
First, one of the problems about being totally cut off from public opinion is that you have no clue that you are totally cut off from public opinion. (I'm sure psychologists have a word for it. Dunning-Kruger effect?) Our senior officials must fix a problem they don't realize they have. (They have been told they have it, and are taking pains to appear to agree – but of course they know it's just hogwash really.)
Second, any alterations to local governance structure, process or personnel must be authorized by the Chinese government, which won't allow any changes that in practice make administration more responsive to the population-rabble.
Third, our top officials cannot personally experience actual contact with the 'Community' – so talking to (eeew) people, taking public transport, sending kids to normal local schools, being on waiting lists for hospital procedures or living in a 500 sq ft apartment are soooooo out of the question I mean seriously what planet are you from?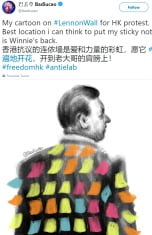 Junior shoe-shiners already co-opted into the government's Listening to Young Persons Committee Advisory Board Scheme are proposing a 'Youth Parliament'. Less stomach-churning but more into voodoo-mysticism territory is an idea from another ambitious worthy for a 'grand dialog', like post-apartheid South Africa, to produce truth and reconciliation, of course. Be assured that the senior bureaucrats beavering away on this issue will not come up with plans this daring or realistic.
I declare the weekend open with a smattering of links…
A view from Taiwan of how the CCP has abandoned 'One Country Two Systems' and is gradually exercising direct control of Hong Kong.
If you can access the FT, one of the economists who encouraged and advised the Chinese Communist Party on reforms says he helped create a Frankenstein's monster.
On the other hand, "…the China model of today no longer works, even in China. The long-term negative effect on the economy will likely be severe."
An extract from (ex-FT) Richard McGregor's Xi Jinping: The Backlash on how the CCP both supports and controls China's private sector.
The brilliant Badiucao's latest work. And where does protestor Grandma Wong get those British flags she waves at demonstrations? (Answer: under the counter.)