The extensive autopsy of Carrie Lam's really-meaning-it-this-time apology yesterday is a fantasy-substitute for carving up the Chief Executive's actual corpse. Discuss.
Best not watch it – and just skim the story. She had to simultaneously: align any core message with Beijing's; kick her own useful-idiot support base in the teeth; and self-flagellate to the satisfaction of seven million citizens. Obviously, it can't be done.
The main outcome is that the extradition bill has been retracted, but don't ask her to say that. And if you want an intersectional deconstructionist contextualization of the word 'riot', that's tough luck too.
She spared us the 'takes out onion, starts to cry' routine, thank Christ.
Lost in all the uproar, Executive Council member Ronny Tong has come up with an astounding suggestion.
Once a leading figure in Hong Kong's pro-democracy camp, Ronny has mutated – for reasons we can only guess at but would prefer not to – into an avid government supporter. He loyally spouts the Beijing-ordered nonsense du jour, yet keeps his administration colleagues on their toes with his own unpredictable and challenging comments (today's concerns the death penalty for helmet-wearers).
So – his Big Idea…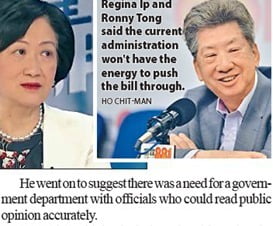 Hong Kong needs a Secretary for Planet Earth. This would be a government official at Bureau level. But, crucially, his full remuneration would comprise the median Hong Kong household income. He would take buses and trains, walk, wait in line at public hospitals, send his kids to ordinary schools, pay for his 400-square-foot flat in Shatin, and buy toilet paper all by himself. His identity would not be made public, so he could visit the population without being recognized.
Once a week, he would return to the mothership to report on what has seen.
For example… "They walk along the streets, then they go down these stairs and escalators into big underground halls, and after waiting a while, get into long metal tubes that glide through tunnels on wheels, and which take them to different parts of the city. And even when you arrive at your destination, you still have to walk for 10 or 20 minutes to go back up all these escalators and back to street level. It's incredibly crowded and most people have to stand. You can't tell the driver where you want to go!"
It's worth a try.