You would have thought that any government official passing through Central this morning would notice that 50% of young people are wearing black T-shirts – and think hmmm I wonder if maybe something's up. Instead, our visionary bureaucrats are in the dark seclusion of their chauffeur-driven cars, buried in a briefing paper assuring them that the vast majority of lawyers and judges and businessmen are pro-extradition amendment, and the opponents of the proposal are misinformed, a lost cause, and there's no point in trying to convince them, so just ignore them and carry on, no problem.
Meanwhile, Denise Ho re-tweeted me!  Swooooon…*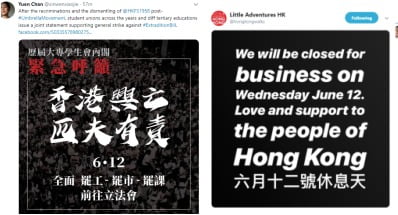 *Not sure, but I think the pic in the tweet – cops lining up Christian kids – should be credited to an SCMP reporter.