I've dug up my exhaustive account (skipping the SARS trauma) of Hong Kong's 2003 – essentially the huge July 1 march against Article 23 and its aftermath.
Much of it reads like a description of yesterday's epic protest: MTR station closures, the procession still going in early evening, and a turnout of young and old beyond anyone's expectations. A magnificent display of opposition to an arrogant and heavy-handed government.
But the similarities will probably end there. In 2003, 'One Country, Two Systems' was largely intact. Beijing left the running of Hong Kong to the local administration. Most people believed/hoped that Beijing would, eventually, deliver on its apparent promise of representative government for the city. Things like future Legislative Council elections and pro-business politicians' poll ratings seemed to matter. The government cowered and backed down in the face of public opinion – the National Security law was dropped.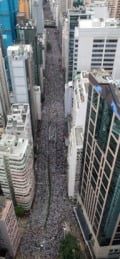 That's not going to happen in 2019. Beijing under Xi Jinping does not accept 1C2S as a formula that constrains the CCP's power on this side of the border. The local government under Carrie Lam is simply an administrative layer implementing instructions from the Liaison Office. There is no pretense that Hong Kong can have democracy or real elections, or that public opinion counts for anything. The people must obey the government, not the other way around. The government will push the Mainland extradition amendments through regardless of a million people on the street.
In 2003, a huge protest march left Tung Chee-hwa facing a crisis; in 2019, it confirms to the CCP that Hong Kong must be controlled more tightly. It is ridiculous to think in terms of the huge march 'crushing Carrie Lam's chances of re-election', as if the Chief Executive is relevant/an independent actor/wants her job/needs popular endorsement/faces 'election' of any sort. It is meaningless to ponder whether, by pushing the extradition deal through, the Hong Kong government will 'lose some/all/any remaining legitimacy' – proving the might of the party-state over the will of the population is the whole point.
Unlike that of 2003, yesterday's protest cannot prevent the CCP tightening its grip on Hong Kong. Perhaps it does something more important – it gives the people of Hong Kong pride in themselves and a dignity that the odious, grubby and sad shoe-shiners can never have. Even if they take your rights and freedoms away, you can die happy that you're not Junius Ho.
A couple of other links. A speeded-up video showing march-as-unstoppable-tide, in case you missed it (and here's another). Pics and more pics of the march, and of the cops' freak-out thing. And the dismantling of 1C2S made easy for folk who understand 'infinity stones'.