Working [sic] from home today, so perusing the online rather than print version of the South China Morning Post. The recent website redesign is cleaner and less cluttered-looking – but most of all, it is a major time-saver.
Although the content seems to be divided into predictable categories (Hong Kong, China, Business, Comment, etc), it is hard to find much current 'new' news. Maybe the stories are buried further down in sub-categories (politics, health, education, etc), but these are too numerous and laborious to click into and back out again, so we will never know for sure.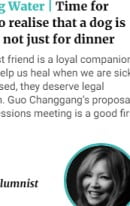 Scroll down any page, and you're back to repetitive links to (often days-old) material from other sections, anyway. Meanwhile, whatever section you click on, one side of the page is occupied by links to the paper's opinion columns – including the rancid pro-Beijing hacks and the (allegedly) stomach-churning one about women's feelings and relationships.
I guess the idea is to steer readers to the trashy and glitzy stuff that is supposed to generate clicks and thus ad revenue. In practice, that means actively preventing readers from getting at the plain old-fashioned daily local and Mainland news reporting that is (was, should be) the SCMP's core usable feature.
Anyway, you zip through it in 20% of the time you would spend on the paper product.
Update: weirdly, searching 'Hong Kong' on Google News reveals SCMP items not visible on the paper's website.