Lawmaker and ex-Security Secretary Regina Ip writes a letter to the South China Morning Post complaining about the Hong Kong business community's objections to proposed extradition measures.
(She claims that businessmen have no reason to worry because they could be 'nabbed' whenever they cross the border anyway. This overlooks the real fear that the corrupt and faction-ridden Communist system can lash out at anyone without warning, and the assurance that Hong Kong is as a haven from it.)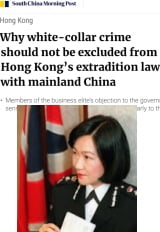 Mainly, the radiant-when-angry Iron Butterfly goes hurrumph at the tycoons for hypocrisy and ingratitude. Having profited from their cushy Mainland deals, these 'supposedly trusted and loyal supporters' of Beijing and the local administration are now 'openly trashing China's legal and judicial systems' – systems, she adds, that they have never lifted a finger to improve.
Ouch.
The little missive nicely reflects tensions among the various useful idiots co-opted by the Communist Party's United Front and its culture of obsessive-compulsive shoe-shining.
Regina (who still apparently lusts for a return to high office in Hong Kong) is a member of the Bureaucrat subcategory of the pro-Beijing camp. They are what you would expect from (British-trained) civil servants-turned-CCP-loyalists: dutiful, relatively thoughtful, and of course haughtily contemptuous of the other subcategories. These include the True Believers who worship the CCP from the heart, the gullible opportunist dimwits like tragic homophobe Holden Chow – and of course the avaricious, selfish, shallow and amoral business community.
As part of her own shoe-shining, Regina has founded a Belt and Road fan club for kids and (just recently) proposed to bar public broadcaster RTHK from news reporting. We can assume that she has had to grit her teeth at times while going along with the pro-Beijing line when she finds it illogical or repugnant. (Note how her letter asserts the integrity of China's legal system, but also implies that it could be improved.)
The letter is essentially a snap of resentment at the spoilt entitled own-grandmother-selling rich buffoons who feel they can get away with putting their narrow and grubby interests first, while the devout, imbecilic and (her own) intellectual pro-Beijing elements discipline themselves and make sacrifices.
And she is right. But nobody said life was going to be fair. Indeed, the CCP she has been lured into supporting survives by making sure it isn't.