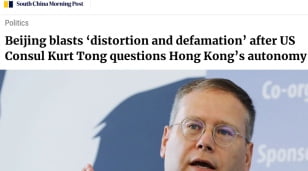 "…foreign diplomats are required to respect and follow local laws and cannot interfere in internal affairs."

Chinese government spokesman furious at US officials
That was several years ago. The US Embassy in Beijing had started releasing air-pollution readings from its own rooftop.
As the Huawei saga has shown, Chinese officials freak out more rabidly the closer foreign critics get to the truth. The latest example is the Foreign Ministry's response to US Consul-General Kurt Tong's remarks about Beijing's creeping interference in Hong Kong.
Tong cited a familiar list of recent actions that were nominally by – but by traditional standards uncharacteristic of – the Hong Kong authorities: barring election candidates from the ballot because of their political views, banning an organization for the same reason, expelling a Financial Times correspondent, etc.
China's officials went into a predictable panty-wetting rant about 'distortion and defamation', and, as if that hadn't sufficiently proved the Consul-General correct, Hong Kong minions echoed the Foreign Ministry's whining.
We all know that Beijing has started giving orders directly, because these are the only times the Hong Kong administration shows any sign of life. When it comes to education, health-care, traffic, overcrowding (and indeed air-quality), Hong Kong does not have a government as such. Aside from chucking hush-money around or finding excuses for infrastructure and other concrete-laying, the civil servants are passive and leaderless. Then comes a phone-call from Beijing's Liaison Office demanding (say) prosecution of some activists – and the bureaucrats obediently leap into action, no effort spared.
US diplomat Kurt the Curt hit an especially sensitive nerve by linking Beijing's increasingly hands-on control of Hong Kong to the city's success as a business location. How can Hong Kong be loyal, Bay Area-integrating, motherland-adoring and patriotic yet remain international, free and under rule of law? To get an idea, look at how individuals feel the discomfort.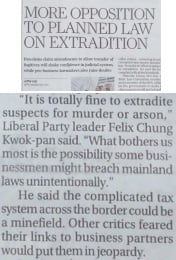 For years, the Chinese Communist Party has painstakingly co-opted local tycoons (and many others) by offering Mainland business and other advantages. The recent deterioration in relations between China and the West raises fears that they are trapped. Once, they boasted to overseas contacts of their ties to Beijing (membership of the ceremonial CPPCC, for example). Now, when overseas, they would rather distance themselves from Xi Jinping's increasingly sinister party-state complex. And they can't.
The next step in Hong Kong's absorption is an extradition arrangement with the Mainland. Pro-democrats and lawyers are against it, obviously. But so are some local pro-Beijing businessmen. Past shoe-shining opened the door to lucrative deals over the border – and all the bribery, tax-dodging, regulation-breaching jiggery-pokery and partners who are later purged, because you have no choice. Now they feel the CCP's claws. No white-collar crimes please!
When businessmen tell Consul-General Kurt Beijing's tightening grip won't affect them, they are not deluded, just scared.