We ease ourselves into the muddy slime of the Year of the Earth Pig with a quick flick through today's headlines and some vaguely worthwhile links.
A Dubai-based port operator is suing a Chinese state-owned rival for barging into its exclusive territory in sunny Djibouti – in a Hong Kong court. It will be Hong Kong's first 'Belt and Road' case, and an opportunity to banish doubts about the independence of its judicial system if one party is an arm of the sovereign Communist party-state that by definition is above the law. (I've no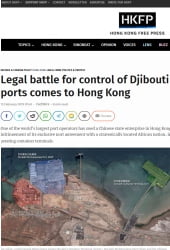 idea of the details. It is not impossible that all commercial parties involved are scum and the Dubai company happens to be clearly in the wrong. But ideally, this would involve PRC-UAE strategic wrangling in the Horn of Africa and therefore involve national security, thus presenting our courts with a real test.)
On domestic affairs, Hong Kong is to phase out analogue TV to free up UHF bands, etc. I didn't realize it was still going, or that there are still people out there who actually watch broadcast TV (currently bingeing on blacks in Japan). In a classic example of our bureaucrats' perverse sense of spending priorities and erratic approach to welfarism, the government will subsidize digital TV sets for the poor. When I was a kid we had to upgrade from a black-and-white VHF set with clunk-clunk dial for changing channels by our own bootstraps and never complained or expected socialist handouts of household electronic equipment.
A short but exquisitely curated selection of reading material suitable (I recommend Pocket for saving until later).
Why is heritage conservation such an ordeal in Hong Kong? Because preventing someone from getting rich is a sin comparable to killing one's parents. (Which you knew already, but an interesting reminder.)
Your definition of 'heritage' may differ. The US foundation of that name has just given Hong Kong its regular accolade for economic freedom. The tediousness of this annual ritual drives SCMP columnist Alex Lo into such a deranged state that he writes a column that isn't total crap. Such strangeness can only be an omen that the Heritage Foundation crown is soon to pass to Singapore.
That would fit into the Big Picture of which Hong Kong is a small feature, gradually being dragged down and absorbed into an increasingly insular, revanchist, nationalistic and oppressive China transforming itself from the world's electronics maker to global threat. One-time SCMP editor Robert Keatley bashes out a quick one on the decline of Hong Kong, including the possible eventual loss of the city's favoured trade status under US law. This sounds far-fetched today – but that brings us back to the Djibouti ports case.