A recent letter in the South China Morning Post complains about Hong Kong's new Xiqu, or Chinese opera, centre…
…it seems many troupes will be barred from performing because the rents for the venue are prohibitively high. The way the opera house is being run defeats its purpose.
We will come back to that word 'purpose'.
Like its Western namesake, Chinese opera is not to everyone's taste, but those who like it are often avid. Unlike a dense 15-hour Wagner-slog, it is not highbrow – if anything, its fans tend to be more grassroots and/or traditional than elite/worldly. Although it has a classic repertoire, composers produce new works, like this one on Donald Trump and Mao.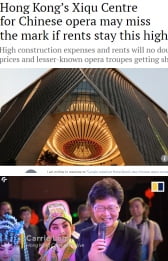 It is taught in schools and by tutors, and there are various amateur and semi-professional troupes, including famous stars. Venues include the Sunbeam Theatre in North Point, the Yau Ma Tei heritage site and pop-up bamboo stages in villages.
So it's a living cultural folk activity – sufficiently living and authentic for some prominent figures in the local scene to have triad links (allegedly, of course).
The Xiqu Centre at the West Kowloon Cultural Hub-Zone is a vast, eight-floor, 300,000 sq ft architectural monstrosity. Despite its ugly bulkiness, it has less seating than City Hall or the Cultural Centre. And it cost HK$2.7 billion. Of your money.
It seems to have a lot of rehearsal space, which – we might charitably and naively imagine – could in theory be available for local riffraff and students to use. But as the SCMP letter-writer says, the main venue will be charging rents that put it beyond reach of ordinary local troupes. It has to do that because it was so expensive, you see.
If this sounds puzzling, there's a simple explanation. As with any visionary Hong Kong government projects, this is not for local people – even the all-precious 'tourism' is more an excuse than a real purpose. And (as with 'tech' initiatives) the West Kowloon Cultural Hub-Zone is not about promoting culture or (heaven forbid) creativity. It is yet another real-estate project.