Faced with a housing crisis, putrid air, overcrowded hospitals and zombie-factory schools, the Hong Kong government's number-one priority is obviously to ban lack of respect towards a one-minute piece of music. The new national anthem law will impose hefty prison sentences on anyone who, HKFP says, 'publicly and wilfully alters the lyrics or the score, or performs it in a distorted or derogatory manner'.
As befits a dictatorship based on the principles and practices of Marx, Lenin and Stalin, the tune is mainly a tedious derivative of a stale Western compositional form, the march. The opening fanfare is quite catchy, but the rest is in a style best described as Soviet-idea-of-rousing, maybe with a few phrases in pentatonic scale to give it a dash of pastiche-Chinese. The lyrics are puke – but then it's a national anthem. To make the despotic CCP symbolism complete, the writer was of course purged and the tune at one time banned.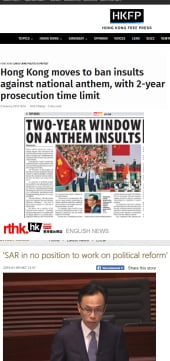 Learn to stand straight and gaze solemnly like you really mean it in the comfort of your own home. If you want to sing along, practice with Paul Robeson.
The Standard says that 'publishing the gist' of an illicit treatment of the work will also be prohibited. Presumably (he naively writes) this will not apply to press reports. But what about posting a link to a scurrilous parody on YouTube?
The law will pass through the Legislative Council with few problems, now so many pro-democrats have been expelled or barred from elections, and the chamber's procedures have been tightened to promote rubber-stamp efficiency. It could be that some of the remaining moderate pan-dem lawmakers will not vigorously oppose the measure, to show everyone how constructive and grown-up they are.
While we're on the subject, the government says Hong Kong cannot proceed with political reform because the city's own people do not have a consensus on the issue. This is a pure lie. 'Political reform' can only mean representative government, which is incompatible with a Communist one-party state that insists on a monopoly of power. We are so numbed to falsehoods that this top official can blame the Hong Kong people, and no-one notices.
Except… a few hundred miles away, people are indeed watching. A Taiwan poll shows most of the public think China can take 'One Country Two Systems' and shove it. And (imagine Hong Kong pan-dems pulling this off) the island's aboriginal folk draft a message to Beijing that is not just eloquent but essentially unanswerable.