We start the week as we intend to continue it – befuddled and confused.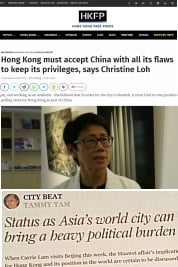 Here's another valiant attempt to work out former lawmaker/official Christine Loh's 'New Narrative for Hong Kong' theory. She stresses that she speaks as a bystander rather than participant, and maintains that Hong Kong must…
…understand the Chinese system, its rhetoric and use of the Chinese language. In so doing, Hong Kong can "use their system to protect our privileges"
The assumption is that, if you adopt the right tone and stance, you can reason with a Leninist dictatorship that single-mindedly pursues absolute power and obedience.
You would have thought that a seasoned policy wonk would see a link between crap governance (eg deliberately overpriced housing) and a stroppy and resentful populace – to which the Communists respond by trying to bolster their own security by imposing even crappier government on Hong Kong, and so the cycle goes on. But apparently, it's the 'narrative' not the housing that's the problem.
Meanwhile… I wouldn't normally recommend that anyone read – or try to read – the South China Morning Post editor's attempts at being a columnist. I guess they have to let her play because it's her ball.
Today's effort only jumped out because of a typo…
The gist seems to be that Hong Kong's openness exposes the Chinese regime, and as part of the city's paramount duty to protect the motherland, it should perhaps start treating foreign NGOs the way they are treated on the Mainland.
It's not often she writes something noteworthy. But weirdly, that paragraph (second from the end) is missing from the online version of the column.