Enjoy the view looking south from Peng Chau to Sunshine Island and Hei Ling Chau while it's still there. If the HK$500bn East Lantau Future Vision Double-Gateway mega-reclamation goes ahead, this will be filled in and covered with enough housing to 'decant' most of Kowloon into.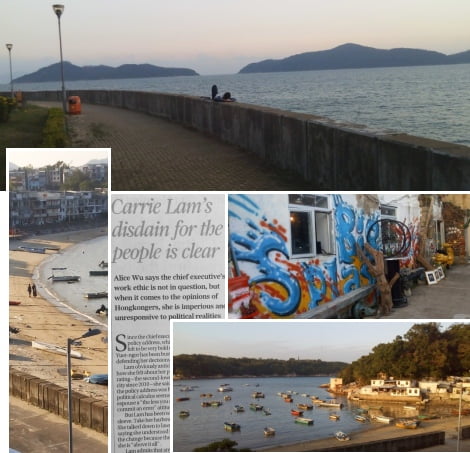 Common sense would suggest that you reclaim from existing land outwards. But the proposed design for the mega-project seems to fill in the deep water between these islands, while leaving channels around the original coastlines. A bit like concreting over the floor of a forest but keeping the trees poking out. To a non-engineering cynic, it looks like a way of increasing the cost of the work under the guise of 'conserving' natural features.
Will Hong Kong's most-gargantuan-ever white-elephant infrastructure project kill Peng Chau, or will the community's continuing slow-motion gentrification get there first?
Yesterday's inspection visit reveals home-made Malaysian pickle on sale at a trendy crafts market, while a little hipster-zone with artisanal Airbnb is taking over a rundown neighbourhood to one side of the CBD. New housing developments are attracting expats who have discovered that old myths spun about the island's remoteness are false. (Bizarre geography fact of the day: it is quicker to get to the vast Discovery Bay Fusion gourmet supermarket from Peng Chau than from parts of DB.) The relatively cheap older apartments and low occurrence of tourist-pestilence are luring more Bohemians and outcasts from Central.
But another question is: will the mega-reclamation insanity actually go ahead? It is so easy to poke holes in the plan that it would be a gift to the Hong Kong government's detractors if they got their presentational and rhetorical acts together. (Hints: existence of land all around us; alternative uses/value-for-money for half a trillion bucks; population forecasts; land-value forecasts; plus all the environmental problems.)
Even the South China Morning Post's op-ed page is choking on its breakfast this morning, wondering what Chief Executive Carrie Lam is up to.
The usual developer-oriented parasite industries are understandably lobbying hard for the project to go ahead. Carrie is apparently appeasing them, even though she must know the idea's an absurd dud.
The days for seeking truth locally are over. Issues like Carrie wanting corporate support to serve another term as CE are distractions. To repeat (and not for the last time): Hong Kong's fiscal reserves are essentially Beijing's. If the Chinese government wants to chuck HK$500bn down the toilet on this, it will; otherwise it won't. When the project is renamed the 'East Lantau Belt and Road Hub Zone', you will know. (Can't rule out an exceptionally intelligence-insulting expectations-management exercise, with the monster to be downsized into a mere quarter-trillion-dollar boondoggle.)
Good news: I will not re-state this for at least a week, as I will be in Taiwan – the post-Peng Chau refuge.