The Chief Executive's policy address is an annual Hong Kong establishment ritual to distract the populace from the incompetence of their supposed elites. Participants engage in mutual shoe-shining by apparently taking vacuous rubbish seriously – a sub-category of the art of 'giving face'.
The government mounts high-profile make-believe consultations with the usual 'various sectors'. It then, with great fanfare, releases a list of measures that are pre-determined, inconsequential, sloppy and/or self-serving, plus some blatant populist PR stunts, and a few lame cop-outs. The media devote major space to it all, portraying it as Hugely Momentously Important in terms of vision, principle, determination and either meeting or dashing public expectations.
This year's is here if you want, with all the cartoons and leaflets here. It comes just as Hong Kong is visibly and undeniably starting its slide into Mainlandization, hence the desperate and depressing slogan 'Striving Ahead, Rekindling Hope'. We considered 'Keep Calm and Carry On', but it sounded too cheery.
The main theme is the 'heavy focus on finding new land for housing'. By 'new land for housing', we mean 'new ways to divert billions into the pockets of the usual cronies'. The vested interests are the big overlapping bunch of circles you get in a Venn diagram of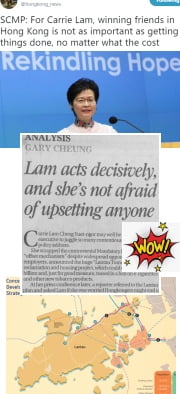 Hong Kong's domestic economy by ownership – property development, real estate, construction/engineering, tourism/retailing, etc.
These guys see the mega-white elephant projects now coming to an end. They no doubt foresee Hong Kong gradually losing some of its rent-seeking potential as it becomes more Mainlandized and integrated into the Bay Area. They probably also sense that the whole Historic China Growth Miracle story is over. There's still time for One Last Gargantuan Grab to get their hands on HK$500 billion-plus from the reserves – but they need to think big and quickly. The plan is to leverage anger about today's housing situation into support for a vast reclaimed artificial island off Lantau.
Chief Executive Carrie Lam seems eager to deliver. But there's a lot of things that don't or might not add up.
One: it's a 20-year project, and therefore has nothing to do with today's housing affordability problem. It is aimed at providing homes for 1 million people, which is the same number of new settlers Beijing has sent to Hong Kong in the last two decades. Who is this designed to make space for?
Another: the fact that reclamation is administratively simpler than converting farmland highlights the stupidity of land policy rather than the benefits of reclamation. The more extreme the answer to a 'problem', the more people should ask if the problem is real. The price tag for the Lantau Dream Future Paradise Vision Project should be screaming 'land is already there if you want to use it'.
A third: the local property market is at silly valuations (US$1 million basic apartments vs median household income of US$40,000). Even minor interest-rate and US-China trade problems are now causing jitters in the market, and a bubble-burst in the Mainland or other large-scale shock would expose Hong Kong's housing shortage for the man-made fake crisis it is.
Bonus snag: rising sea levels?
If this proposal is mainly the local/international tycoons and engineering interests trying the ultimate crony-scam to end all crony-scams, they could be disappointed. But if Beijing is on-side with its own companies' slice of the action and the demographics/migration angle, this mega-reclamation will go ahead. Worst case: our descendants get the world's first and only 1,700-hectare outdoor paddling pool ('Wade from Kennedy Town to Mui Wo!') Whatever happens, it can't be as useless as the bridge to Zhuhai.