We all know that Beijing's Liaison Office in Hong Kong micro-manages the fight against separatists, pro-democrats, the Foreign Correspondents Club, and other threats to national security. Now, the department-owned newspaper Wen Wei Po seems to be launching a campaign against evil Western cultural influences – specifically at the M+ still-being-built Museum at the West Kowloon Cultural Hub-Zone District.
A two-part article (in Chinese, here and here) blasts the museum for spending money on the works of a digital art duo called Young-Hae Chang Heavy Industries and on pieces from Uli Sigg's collection. The writer is mightily miffed. He suggests the money should be spent on local artists, but mostly rants about the influence of expatriate curators at M+, Hong Kong's continued 'non-return' to the motherland, and the art scene's preference for 'Western junk' (such as a giant poo sculpture).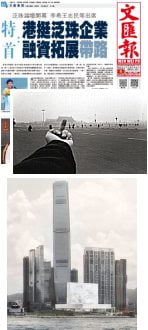 The Young-Hae Chang duo are Korean. They create sort-of techno-electronic audio-visual installations, which you may enjoy for free at their website. (More on them here.) I guess the 'Korean-ness' is what makes it trendy and meaningful. Even by his un-groovy standards, the Wen Wei Po guy might have a point in asking why M+ should see this as collectible. (And I wonder how a museum 'acquires' easily downloadable digital material – apparently M+ is getting some sort of special proof copies.)
Uli Sigg's is pretty much the world's foremost collection of contemporary Chinese art, covering the whole of the post-Mao period. It is the core of M+. Among the artists represented are dissident Ai Weiwei, and some items blatantly allude to such forbidden themes as the Tiananmen massacre. Still, the collection is not 'Western garbage'.
Up until a few years ago, people assumed 'One Country, Two Systems' meant Communist ideological-nationalistic cultural correctness wouldn't be a problem for M+, or the Hong Kong art world generally – remember the amusement when Warhol's Mao pix weren't allowed over the border? But now, in the Xi-era, we can't be so sure, and the HK$5-billion M+'s galleries might have some empty spaces on the wall.