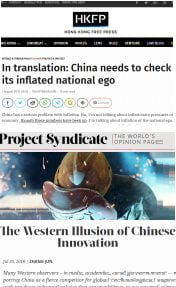 China's government, media, think-tanks, tycoons, hyper-nationalist wumao and other organs of the party-state may have given the world the impression in recent years that the country is an economic, technological and military superpower – a developmental marvel blessed with a unique and superior Communist-Confucian political and social system, before which the rest of humanity will soon bow.
The nation's leaders now wish to make it clear that the People's Republic is not in fact an unstoppable force of modern might, but just another (if large) lower-middle-income economy seriously lagging in innovative capacity. They regret any inconvenience or misunderstanding.
Yes – Beijing is starting to realize that it is annoying. The official line now is that China is, if anything, rather backward. The Ministry of Truth wheels out a Professor Zhang Jun to explain. Needless to say, it's basically all stupid Westerners' fault for dreaming up the invincible-threat tech-powerhouse myth in the first place.