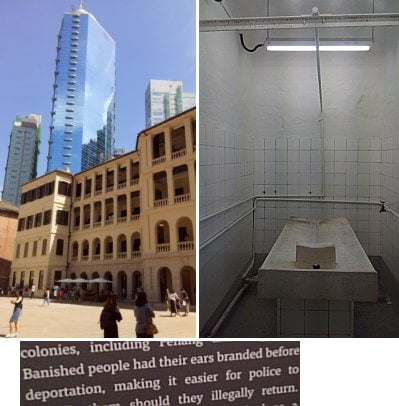 A weekend stroll around the old Central Police Station/Victoria Prison compound – now open to the public, after HK$3 billion of work, as the Tai Kwun arts-heritage-hub-zone.
The site's primary role is to serve as a cultural venue, with the impressive exhibition space at the art gallery (already done) and various performance facilities. So essentially the place will be as successful as the content it hosts. (Content? We need content???)
Otherwise, what we have are…
Open spaces, notably the prison courtyard and the old police station parade ground. They could use more or better seating, and maybe little tables, some shade, and even ideally some greenery. Presumably, the bosses made a conscious decision not to make the areas too park-like, either for the sake of authenticity or to discourage too much lounging around, fun, etc. Still, residents of this neighbourhood are grateful for even a square foot of extra concrete, and a group of Indonesian amahs had managed to devise a halfway decent picnic setup, so we shouldn't complain.
Historic buildings, which are obviously the main static attraction. The exteriors have been so painstakingly refurbished that they have a sterile, Disney-like appearance, but maybe the weather will sort that out.
The original interior structures are intact, but thoroughly refitted with modern arts-centre/airport-terminal-style trimmings, signage, baby-feeding rooms, etc. This is a renovation rather than preservation project (contrast with this).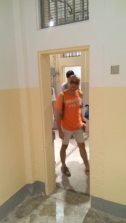 As well as cultural areas, you have historical displays, including a handful of preserved prison cells and a token creepy artefact – the mortuary slab. The museum-type offerings cover things like prison diet and the role of the police, but with limited context or depth about the wider society at the time. Perhaps this would exceed the hub-zone's mandate; it also avoids the political-correctness problems involved in explaining the colonial past.
The buildings around the parade ground host reasonably unobtrusive retail and F&B outlets. The shops tend towards tacky/overpriced junk (leatherwear, clothes, pointless knickknacks), and the restaurants look pretentious/fancy. They all seemed fairly empty, though the glam quasi-oriental café stretching along a verandah of the main block might attract the easily impressed in the evenings. Meanwhile, a couple of ground-floor food places that are clearly affordable and pitched at normal people are crammed to overflowing and need far more space.
This is one of the great mysteries of life. The highest rents are paid by the outlets that attract no customers, therefore you can't have nice things.
One exception to all this – the Taschen book store, including the world's biggest David Hockney tome, a volume bound in chimpanzee fur, and other weirdness.
Overall – not bad, in a Jockey Club-paid-for-it way. My hunch is that locals will quite enjoy an occasional hour prowling around the old blocks, hanging out in the yard and taking in the odd movie or exhibition, while tourists might find the whole place a bit disappointing and stay away. (Fingers crossed.)