Finding a wad of taxpayers' money lying around, the Hong Kong Transport Department decides to reinvent the wheel. Behold the HK-Mega-Smart-City eModeTravel-node App, which allows you to plan journeys around our bustling metropolis.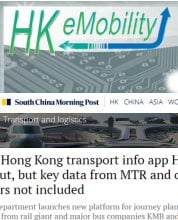 One small drawback: it omits the schedule information for Kowloon Motor Bus, CityBus and the MTR mass-transit network. I would guess these account for (pluck conservative figure from head) 75% of the routes people take around town. However, it does offer arrival times for Hong Kong Island's rinky dink/charming trams (frequent, but still quicker to walk) plus 'the best walking routes in Causeway Bay and Tsim Sha Tsui' (a joke coming from a bureaucracy that regards pedestrians as vermin, especially in those two districts).
The civil servants have also included helpful info on things like traffic jams and parking spaces for the small part of the population who drive private cars – who by bizarre coincidence are mostly… civil servants.
Apparently, the app's relative uselessness is because the big transport operators' top-secret commercially sensitive data cannot be divulged for reasons of national security.
So why bother?
It's not as if this space-age high-tech service doesn't already exist. Google Maps offers a user-friendly and comprehensive 'directions' function that virtually holds your hand and leads you to the right bus stop, MTR station, etc, complete with advice on when the next service leaves, which seats don't have deadly pins in them, etc.
It is true that there are Hong Kong public servants devoting significant resources to actively and maliciously inflicting damage upon the once-great city. Current examples include gerrymandering (allegedly, ho ho) election boundaries, banning books, and of course stamping out thought-crimes.
But there are also whole bureaucracies dedicated merely to wasting time, space and (especially) money. We have Computer Emergency Response, Travel, Food Safety and other offices full of personnel 'monitoring' and re-sending already available alerts, and Tourism and other commissions absorbed in futility and pointlessness. The Transport Dept App Development Tech-Inno-hub Unit is an example of the latter. To be fair.