So the Great Trade War begins, again, but for real this time, in a Trump-puts-tariffs-on-$34bn-of-Chinese-imports sort of way, at least if you're the type who loses sleep over the idea that 'another $16 billion of goods could follow in two weeks'.
As we are constantly reminded, global supply chains and other forms of interdependence mean we will all suffer if the world lapses into protectionism. Yet it should be obvious that China – with extreme economic distortions and a paranoid dictatorship – has most to lose if the system breaks down. Beijing's main hope is that Trump is too imbecilic to understand how vulnerable China is. (By 'imbecilic', we mean the sort of person who starts the ultimate strategic economic showdown against China by attacking Canada.) For an attempt to detect coherence in US actions, try this.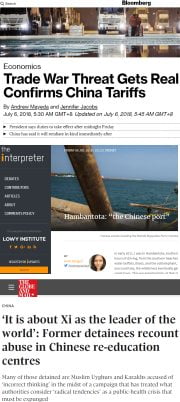 Which brings us to declaring the weekend open with some recommended reading…
Many people – certainly Trump – see international economic relations in terms of the half of the balance of payments known as the current account. If you look at the capital account, you see a different picture, such as this no-difficult-economics-required piece in the Atlantic.
Put another way: if China is on its way to becoming number-one, why are its richest people all moving their wealth to the West? Why – you'd almost think they thought the place was screwed or something. (A more compelling question is why legions of observers and analysts seem oblivious to this anomaly in the 'emerging giant' narrative, as if unable to understand how vulnerable China is… )
China's rise seen from Manchester, England. And, following the recent much-acclaimed story in the NY Times, a Lowy Interpreter visit to Sri Lanka's Belt and Road win-win rip-off at Habantota.
In the At-Least-It-Can't-Happen-In-Hong-Kong department: compulsory conversion of Muslims to Xi-ists in Xinjiang, and exciting new books suitable for study groups on Lord Xi mythology, such as his early days in the village of Liangjiahe. If it ever does happen in Hong Kong, you might try fleeing here – the far edge. Lastly, a history of Kai Tak in pix.