The LA Times' man in Beijing isn't having a good year – first it was this, and then this.
MeToo turns the spotlight on Asian newsrooms and accuses (some) male foreign correspondents of sexual misconduct against female colleagues. Quite a story by Joanna Chiu: on top of the usual gender-based power-relations phenomenon, it has racial privilege/entitlement, a dash of Oriental fantasy-exoticism/cheap booze, and plain hypocrisy in a profession that aims to fearlessly expose injustice and exploitation.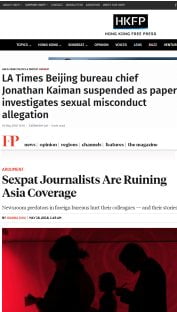 Who are braver: the women coming forward with painful personal stories of harassment and assault, or the smallish number of men who dare poke their head over the parapet to ask whether this is fair on all males/over-hyped/necessary or at least question details? A few embarrassed guys who know the accused are apparently denouncing this as a witch-hunt. It's a bold position to take – there's not much room for sitting on the fence here.
There is also a mild backlash against describing the villains as Western male expats, on the grounds that it doesn't apply to Germans. Perhaps 'Western' is largely code for a few particular nationalities – possibly those known for dominating international media and with serious histories of getting into other cultures' faces in Asia and elsewhere. Alternatively, we can't rule out the possibility that some locally born native men in Asia can also be predatory pests or rapists (indeed, purely domestic MeToo protests provoke seething outrage among male establishments in Japan and Korea, and are banned as an evil foreign influence in China).
Nor of course does it stop at 'sexpat' journalists – there must be 'sexpat' bankers, 'sexpat' teachers, 'sexpat' priests and for all we know 'sexpat' chiropodists (there are certainly 'sexpat' Oxfam workers).
Here is some earnest advice for white male 20-somethings abroad in response to this story. Males will either cringe at it, or with it (to some extent, it might depend on age – it does say 20-somethings). The point is that underlying this tale of obnoxiousness and intimidation is a story about things getting better, and very rapidly.
Until a few years ago, it would not have been news, let alone shocking or distressing news, that some Western guys in Asia preyed on female colleagues with impunity. (They were the ill-bred, loud, boisterous oafs whose uncouthness, it has to be said, did not repel all women as instantly as those of us who were and are well brought-up and decent might expect.) And you didn't even ask what happened at the regional management conference or rugby club tour in Bangkok. I recall a Hong Kong-based financial services guy whose doctor would helpfully call his wife in for a 'flu shot' if he came back from a business trip with something nasty. How could the world not be getting classier?
There were no hashtags in those days. MeToo is not about something that's recently started to happen, but something that has become unacceptable – so suddenly, that even guys in newsrooms didn't see it coming.