Is Beijing softening its tone towards Hong Kong? The South China Morning Post believes it might be, judging by remarks from China's Hong Kong and Macau Affairs Office boss Zhang Xiaoming. (Incidentally, the column is an interesting example of the challenges of churning out loyalist drivel: the writer must explain and fawn over official pronouncements without being totally sure what they mean, other than being slogan-laden and vague.)
Zhang seems to suggest that Beijing should phrase its threats, menaces and rants to appear more acceptable to locals. Why not? Worth a try! He also seems to recognize that overt intervention by central government may be counterproductive, proposing that:
…when it comes to economic integration with the mainland, including development of the Greater Bay Area, Hong Kong proposals will be preferred over those from the mainland; the chief executive will be given more opportunities to announce on Beijing's behalf beneficial policies from the central government…
So the substance of 'integration' is a given, but the presentation should be better. This is important, because 'integration' means the scrapping of 'One Country Two Systems' and the absorption and subsuming of the city by something larger, both geographically and psychologically. 'Bay Area' is a replacement buzzword.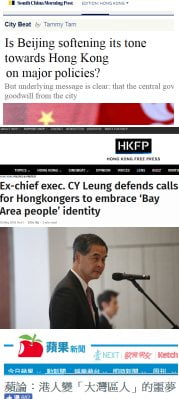 Since the mid-19th century, Hong Kong has thrived by being different and separate from China. It was the place where you could do things that you could not do in the rest of the country. It did not compete with the Mainland, and conversely it did not cooperate with it. Whether the relationship was mutually advantageous or parasitic, the city and the hinterland were apart, while interacting intensely.
The Communist Party detests the symbolism of this, and the separate identity of the population, and it must make Hong Kong less 'Hong Kong' and more 'China/Mainland'. The process is going on all around us in infrastructure projects, migration patterns, how Boy Scouts march, the anthem laws, and so on. Diminishing Hong Kong's supplementary-but-autonomous economic role is a major part of it (though please keep the CCP elites' money-laundering channels).
Today's minor example: national-level research grants being extended to (patriotic) Hong Kong scientists, to nudge the city into overlap with tech-driven Shenzhen. (The stress on 'tech' is not just trendy: Hong Kong has little comparative advantage in the area so must play a subservient role.) Meanwhile, Fitch Ratings warns that Mainlandization is exposing the banking sector to weaker corporate governance and property-inflation risk.
There's a lot to do, and we can see why Beijing might feel that softening its tone will help the forced transition.
Then along comes former Chief Executive CY Leung, who obviously didn't get the 'softer tone' memo. This man openly hates Hong Kong and can't wait to eradicate it as an idea or a feeling. You should all stop identifying as Hong Kong people, he says. From now on we are all happy smiling 'Bay Area' folk.
CY is jumping the gun. We will see how Zhang Xiaoming's touchy-feely lovey-dovey approach works. Then, if necessary, we can use the Xinjiang/Ningxia no-nonsense Sinicizing solution.