The United Front never lets an Orchestrated-Mouth-Froth Opportunity go to waste – thus Hong Kong is rocked by the Great Evil Pan-Democrat Vicious Phone-Snatch Mayhem Massacre Horror.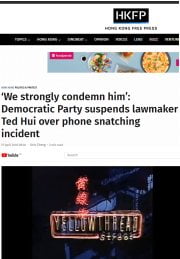 Chief Executive Carrie Lam knows she is supposed to join in, but has no clue about nuance, so she describes opposition lawmaker Ted Hui's seizing of a civil servant's phone as 'barbaric'. Apparently after some pleading from the South China Morning Post, pro-Beijing lawyer Ronny Tong manages to list 95 reasons why Hui deserves the death penalty. The Democratic Party dutifully grovels and self-flagellates. No-one asks why the government sends junior administrative officers to prowl round the Legislative Council building shadowing members.
The SCMP's last surviving outspoken columnists Jake Van Der Kamp and Peter Guy seem to be taking a very, very long time submitting their pieces these days, but at least maverick Andy Xie occasionally gets onto the op-ed page. Today he asks why the Hong Kong Monetary Authority is so reluctant to raise the city's interest rates to maintain the dollar peg – as the currency-board system requires. You know the answer, but it's worth reading anyway…

Some amusing or thought-provoking diversions…
Here's a blog all about places in Hong Kong used as movie locations. It includes a link to a TV cop series (Australian? British?) which looks dire except for a faintly surreal feel courtesy of its 1990s Hong Kong setting – several days' binge-watching if you're curious or desperate, or in need of some quick exotic oriental stereotype clichés.
For China-watchers, an update on the United Front Work Department from the Jamestown Foundation, Foreign Policy on Beijing's snooze-inducing propaganda push, and a Sinica podcast on how to tell your New Left from your Bo Xilai fans from your Neo-Maoists.
I declare the weekend open with perhaps the most amazing video clip you will see all day/month/maybe year – a close-up of a comet.