The South China Morning Post reports that the Hong Kong-Zhuhai Mega-Bridge Committee of Wise Expert Advisors were snoozing, sipping cocktails and listening to this on noise-cancelling headphones, when they could have been meeting to discuss the latest Drifting Dolosse Disaster developments. No surprise – if they had met, everything would be perfect and wonderful, right? But lower down, we learn that the government has budgeted HK$270 million for maintenance of the Hong Kong section of the project for this financial year.
Before troublemakers can point out that the bridge isn't even open yet, officials hurriedly explain that the money is being earmarked ahead of time. But it raises the question of this vast white-elephant project's running costs.
The good news is that the link will attract so little traffic that the road surface won't suffer much wear and tear. But we are talking about a massive concrete and steel structure constantly exposed to seawater – and not just any seawater, but Pearl River Delta seawater with special glow-in-the-dark effluence and Bay Area Opportunity by-products sloshing around in a typhoon-whipped, corrosive frenzy.
And then there are the costs of the massive, well-manned, brightly lit, air-conditioned immigration facilities, with eager and alert passport-checking staff and Customs officers and expensively trained sniffer dogs and pricy X-Ray scanners, plus legions of cleaners and their top-quality government-issue mops. Open 24 hours (I presume), year-round.
The Lantau Trail south of Tai O is acquiring a reputation as an observation hub for unfinished-but-already-crumbling infrastructure. On a recent stroll there, I also spotted some interesting wildlife…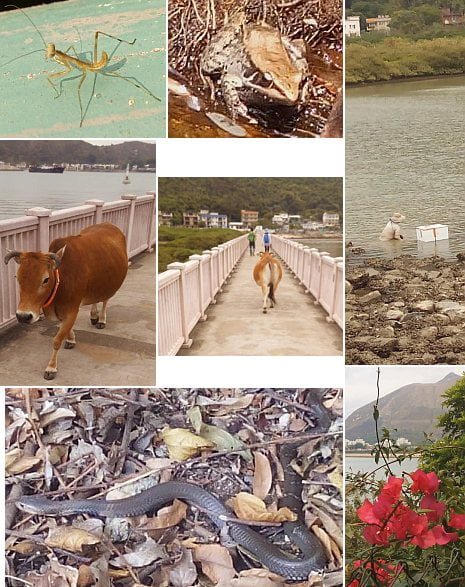 I can identify the pregnant brown thing as a cow, but I am ashamed to say I can't name the rest: a mutant ant-mantis insect, a handsome well-camouflaged gold-backed frog, and a serpent that is too visually dull to possibly be venomous (presumably/that's what it wants you to think/were the last words that went through my mind).
Some quick Thursday links… The SCMP publishes Angela Gui's complaint about their coverage of her kidnapped father Gui Minhai's forced confession, and alongside is the editor's breezy, positive-energy, have-a-free-T-shirt response – thoughts on which are here. (Meanwhile, here's a headline saying that Fox TV host Sean Hannity's credibility is on the line.)
And, from the Straits Times, a stunning look at the gender-ratio disparities in China and India, of which we will be hearing more for several decades, and it won't be pretty.