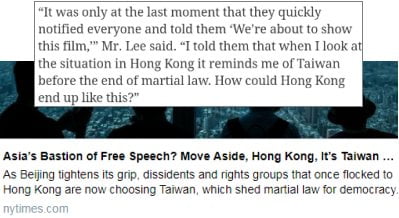 Taiwan overtakes Hong Kong as Asia's beacon of free speech, says a New York Times article. (Renegade Province's press pick it up, while Carrie Lam's Greater Bay Area Southern Sector's government considers issuing a whiny defensive foot-stamping press release in protest.)
Back in the 1990s, the gap was closing because Taiwan was transforming from a police state to a pluralistic democracy. But now, it is not so much that Taiwan is zipping further ahead as Hong Kong is going into reverse. This has become obvious in the last few years, with bookseller abductions, loyalty tests to bar elected lawmakers from office, self-censorship of media, distributors boycotting movies, etc, etc.
The orchestrated mass-mouth-froth over Benny Tai is a significant step. Unlike covert kidnappings, low-level electoral administrative procedures or private-sector business decisions, this is being openly directed by Beijing with full involvement of the local Chief Executive.
Two years ago, China launched National Security Education Day, which includes fun activities such as reporting dastardly foreign spies. This year, Hong Kong joined in with a National Security Education Day Symposium at which Liaison Office Director Wang Zhimin pretty much demanded action to ban any discussion that supposedly challenges the nation's sovereignty.
It is bordering on pedantic to point out that Benny Tai did not voice support for independence at his Taiwan conference, and was discussing hypothetical situations. Wang says that Benny's comments went 'way beyond freedom of speech or academic freedom' – so there. The Chinese Communist Party decides what is an unacceptable, subversive or sovereignty-threatening idea. You will know because you will be told you crossed a 'red line', which (like a 'core interest' in China's international relations) can appear without warning.
Whether it is through Article 23 or a direct imperial edict/Basic Law 'interpretation' from Beijing is largely irrelevant (the lawmakers' disqualifications and high-speed rail checkpoint deal set precedents for overruling the local legal system). 'National Security' laws are coming, and they will primarily be aimed at banning discussion of ideas the Communist Party considers unacceptable (starting with independence and, probably, an end to one-party rule). That will be impossible to achieve without some form of official censorship (no doubt surgical at first) of all media, including online. (Loyalty tests for academics, lawyers or kindergarten teachers can't be ruled out, either.)
As with all aspects of creeping Mainlandization, there is nothing constitutional anyone can do. But Beijing – so obviously insecure and paranoid – will be inviting prankster-provocateurs to indulge in all manner of guerilla theatre and online disobedience. I feel a fantasy novella about the fall of the CCP and the peaceful breakup of the world's last empire coming on.
Meanwhile, Taiwan will be leaping forward just by standing still.