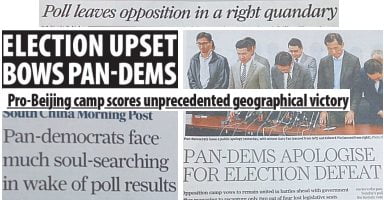 Hong Kong's pro-establishment media rather overdo the stories and articles on mass-suicides among Hong Kong's pro-democrats following Sunday's by-elections massacre carnage shock. You'd have thought that United Front mass-organization, media and government indifference – and no doubt pan-dem errors – had resulted in landslide victories for Bill Tang and Judy Chan. A more interesting story would explain why, even with a tilted playing field, those two pro-Beijing stooges still couldn't win.
A few early-mid-week links…
Yet another in that long, never-ending series of warnings that China's financial system could lead to economic collapse, courtesy of a book review from Reuters. As with Cassandra and the boy who cried wolf, one day you'll wish you had listened.
John Garnaut offers a good summary of China's interference in Australia, which is increasingly apparent as cunning/clumsy/creepy. Beijing's designs on Greenland seem relatively subtle. What with Tonga, Djibouti, Montenegro and dozens of others, China seems to be in a solo race to inveigle and beguile as many far-flung regions as possible, as if there is some sort of deadline.
On the subject of hasty grabs, the chattering about Xi Jinping's constitutional changes continues. Some more from (openly taken-aback) Jerome Cohen, and Kerry Brown tries to look at the quasi-religious psychology of Xi as 'born again'.
All this barbarians' blather about the Emperor-for-Life thing is really getting on someone's rather sensitive nerves.