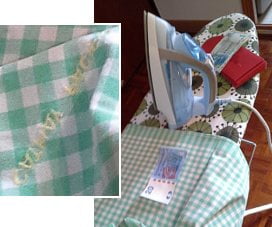 Hey, they're only for the security guards. Note inspired use of 1990s-era Cathay Pacific first-class table napkin, for extra-auspicious festive good-fortune and prosperity vibes.
A few links to unleash Dog Year…
The UK's Guardian applies its juvenile clueless trendy hip anti-orthodoxy to a subject Hong Kong can relate to, getting suckered into publishing a Mainlander's dismissal of British-Chinese culture as outdated and false. By which she means Cantonese-based. Forget 'southern' lion dances, she says, and get authentic – selling Burberry products to shoppers from the glorious motherland. Apart from confusing community traditions with tawdry tourist attractions, she claims to think that 'kung hei fat choy' is Canto for the Mandarin 'xin nian kuai le' when it is fairly recognizably 'gong xi fa cai' ('sun lin fai lok' to anyone who wonders if she is feigning this obtuseness).
She incurs the wrath of right-thinking people everywhere (here, here, here, etc) for this United Front-aligned neo-Han-nationalist piffle. (Or could it be some sort of parody-satire-humour thing that didn't quite work? Always hard to tell with the Guardian.)
On the subject of 'tawdry', the Communist Party culture-warping and historical revisionist fun continues over at CCTV's Spring Gala (whaddya mean you missed it?)  The superlative-defying garishness-as-propaganda extravaganza introduced viewers to a recovered national treasure – a scroll called 'Landscape Map of the Silk Road' supposedly from the early Ming Dynasty. It is in fact a Qing-era work called 'Mongolian Landscape Map'; it still pre-dates the German-devised phrase 'Silk Road'.
More truth-merging-with-fantasy… For hardcore Alibaba watchers only, the latest instalment from Deep-Throat IPO, following the announcement that Jack Ma's company would buy one third of (his as well) Ant 'recent setbacks' Financial – in which the Dick Fuld Banker-Speak Translator spews out such horrors as '…Transfer Fake Subsidiaries and Bad Assets in Exchange for a Boatload of Promises-to-Pay and a 33% Equity Stake … to be held in yet another Fake Kick-back Subsidiary…. Paving The Way For Huge Future Fake Asset Write-Ups'.
As an antidote to all this, Quote of the Day is Jake Van Der Kamp's definition of Belt and Road: '…a storm of hot air that sycophants emit as evidence of their eagerness to obey commands from Beijing'.