With Western companies like Mercedes, Marriott and Zara engaging in the most humiliating and unseemly Panda-groveling, perhaps we should not be too surprised to see a senior Catholic official effusively praising China. We might, however, raise an eyebrow at the academician-bishop concerned for specifically commending the Communist regime for adhering to the Church's 'social doctrine' (here and here).
This follows a recent visit to the country on a diplomatic mission, which left him hugely impressed by the absence of shantytowns and drug-taking youths, and the tons of human dignity, national conscience and focus on the common good. He somehow neglects forced abortions, persecution of religions and suppression of human rights – which one Catholic commentator points out are 'not optional extras'.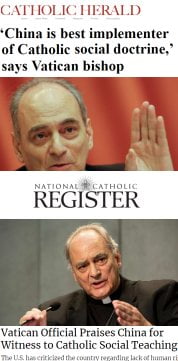 There is a long tradition of this one-trip-and-you're-maximum-bullish sort of thing, going back to Lincoln Steffens and Edgar Snow up to modern-day investors. Among the less gullible, there is also a provocative tradition of Commie-hugging-as-anti-Americanism – say among 1970s-style trendy leftists. The bishop does this when he uses China's enlightened wonderfulness ('moral leadership on climate change') as a counterpoint to evil Yankee individualist capitalism ('oil multinationals manage Trump').
The bishop is from Argentina, as is the current Pope. During the 1970s, that country was run by the usual Cold War third-world US-backed right-wing dictatorship/military regime, which sent death squads after opponents. Many social-activist priests and nuns were tortured and killed, though the Catholic hierarchy officially pretty much supported the junta's fight against godless Communists.
So to some South American Catholics, it is possible to view Communism nostalgically as a social-justice movement. To others, the Church's past tolerance of fascism as a bulwark against Bolsheviks (in which Pope Francis allegedly played a role) would perhaps provoke some feelings of self-reflection or even guilt.
So it's complicated. But we can be sure that – as for Marriott and Mercedes – this is ultimately about market share and growth, perhaps at the risk of overall brand image.
(Before any Catholic-bashing or -defending starts, a little disclosure: I attended Catholic schools from convent kindergarten/junior level up to a Jesuit-run university, went through such rituals as First Holy Communion and confessions, and was an altar boy who rang the bell to mark transubstantiation (ie, I personally decided exactly when bread would become human flesh which people would eat – cool, huh?) The teachers encouraged critical thinking to the extent that they almost viewed lapses into atheism as a sign of success. I think all religions are equally good/bad/wondrous/absurd/essentially stupid.)
I declare the weekend open with the inspiring promise that the next one will be of the four-day variety.