The South China Morning Post announces its relocation to glamorous, high-tech, space-age new offices. The pictures suggest a James Bond villain's secret headquarters built deep inside an island off an exotic coast in the Far East. But the description sounds 'hip trendy Silicon Valley tech', with lots of open-plan, groovy, laid-back social and recreational areas.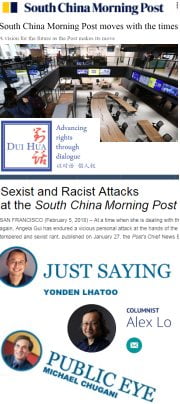 I hear that reporters will not have personal work-stations where they can keep all their files, notepads and contacts' numbers, but will be expected to 'hot desk' in a paperless online way, as befits a cyber-media outfit.
If it helps, they can throw out the contact details of Dui Hua, a US-based NGO that aims to help victims of injustice in China. The campaign group is refusing to talk to the SCMP until it receives an apology for the paper's 'ill-tempered, sexist rant and personal attack' on Angela Gui, who is fighting for the release of her father Gui Minhai, kidnapped and recently re-kidnapped by Beijing's secret police.
It's interesting that even a charity hardened by years of exposure to China's vilest human-rights abuses and related propaganda is taken aback by one of the SCMP's little group of extreme, outré columnists. Three in particular specialize in non-stop cantankerousness and loathing towards Hong Kong's pro-democrats and other critics of the Communist dictatorship. They are not so much pro-Beijing as anti-anti-Beijing. Worse than being just hate-filled, the repetitive and obsessive attention the fading hacks display towards photogenic younger activists (Joshua Wong, Agnes Chow and indeed Angela Gui) is borderline creepy and disturbing. (One possible excuse: they are under threat of being dropped into a shark-filled tank.)
Zooming out to look at the big picture – a reminder that these shabby columns are a forgotten corner of a giant Mainland corporate empire picked as a commercial winner and policy collaborator by the Chinese party state. SCMP proprietor Jack Ma's Alibaba has just had its quarterly analysts' phone-in, leading to an updated regular commentary. The name 'Enron' crops up here rather a lot.