Foreign businesses have a hard time in nationalistic, mercantilist China's market. Facebook's Mark Zuckerberg grovels with vomit-inducing displays of Mandarin proficiency and Xi Jinping's collected works; Marriott Hotels suffers an attack of obsessive-compulsive panda-sucking; Donald Trump tries to help by slapping tariffs on solar panels.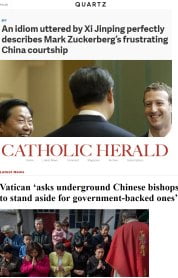 The Christianity industry has been trying to get into China longer than most, starting with the Nestorians 1,200 years ago, the Jesuits in the Ming court, and Victorian-era Protestants saving souls with rice handouts.
Today, US Evangelicals have identified Hong Kong as the super-connector to the Mainland (and some gullible local donors). They have cleverly wooed the city's pro-Beijing tycoon caste with assurances that Jesus hates the poor and will make His rich worshipers richer, in this world. And they have targeted conservative bureaucrat and professional classes by neatly melding homophobia and other illiberal agendas with supposedly traditional Chinese/anti-Western values. Expansion over the border is enjoying mixed success through franchising, multi-level marketing channels and other small-scale start-ups.
Their more centralized, Rome-based competitors the Catholics have found it especially difficult to set up formally on the Mainland, as their autonomous model is not compatible with a Communist one-party environment. Instead, it oversees an illicit branch network. Meanwhile, Beijing has established a parallel operation that counterfeits much of the branding and IP, and has grabbed a large share of the market.
Beijing is open to a joint-venture – but obviously on its terms, which include a major say in management, including many aspects of the product, distribution and especially appointment of key personnel. Since the Catholics have long seen Bolshevism as symbolizing the ultimate competitive threat in the ideology business, it has always been unthinkable that the Vatican head office would enter into any such partnership. They do, after all, have a 2,000-year history of integrity and principles to protect.
Which leads us rather neatly, on the passing of Mark E Smith, to this…