The Chinese Communist Party's greatest gift to its Hong Kong opponents this year keeps on giving. That's new Justice Secretary Teresa Cheng, of course. In a just-after-midnight-on-Sunday press release, Cheng announces that the illegal structures at her Tuen Mun house are being fixed, and her two properties in Shatin and one in South Hong Kong Island have been checked.
The details sound suitably mundane – the big excitement is an insufficiently fireproof (possibly) kitchen door. But, like the clumsily underhanded timing of the press release, this just intensifies suspicions that she has something to hide, and officials who instinctively insult the public's intelligence are helping her do it.
The irony is that even her more egregious illegal structures are pretty standard in much of Hong Kong. Longstanding dimwitted government land-revenue policy that severely constricts residential area has induced or even impelled people to extend or create living space illicitly. (The system makes the Window Tax sound sensible.) Authorities' enforcement is selective, lax, lazy, overwhelmed or non-existent.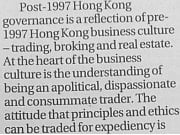 Cheng's real sin has been trying to worm her way out of it through 'a denial that is simply not credible'. Chief Executive Carrie Lam's support for her further undermines an administration with enough credibility problems. We have to live with this. Both women were picked and appointed by Beijing's local Liaison Office to implement Mainlandization of Hong Kong, notably the degrading of the rule of law here. The Communist Party chose them not for their principles, but for their lack of principles.
At a more basic level, a major affront is Cheng's property dealings and holdings. The Shatin investments look like average middle-class-housewife dabbling. But the price she paid for the Tuen Mun place – double the previous price of a year before – raises eyebrows (as does the hitherto-secret husband-next-door's wealth). And now it seems she bought a 2,000 square foot flat in Repulse Bay for HK$62 million in September last year.
This is a time when mass-market apartments carry price-tags equivalent to well over 15 years' median household income, and many families are living in subdivided squalor. It is an almost perfectly scripted episode in which the oblivious elite contemptuously kicks the populace in the face.