The Chinese government and its local administration are using loyalty tests and tightened procedural rules to turn Hong Kong's Legislative Council from a weak and rigged body to a purely ceremonial, Mainland-style rubber-stamp one. While this is underway, it arguably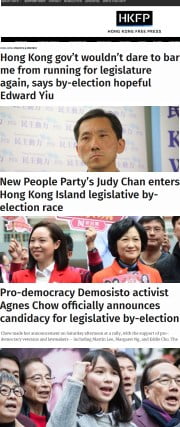 makes sense for the city's opposition to remain involved in this slightly-meaningful representative political process. Following the expulsion of opposition members for ideological incorrectness, there will be by-elections in March. These could be the last LegCo elections before boycotting makes more sense.
Unlike the normal multi-member-constituency, proportional-representation mishmash, these LegCo polls will be pure first-past-the-post races. They could serve as a referendum on the Communist Party's gradual suppression of Hong Kong's pluralistic civil society. Although there is little point in 'sending Beijing a message' – Beijing's whole aim is to control rather than listen to Hong Kong – the by-elections will give voters an opportunity to humiliate the local puppet administration.
China's local Liaison Office will micromanage the pro-Beijing parties' campaigns to consolidate votes and maximize turnout. The pro-democrats can't match such organization; mainstream pan-dem parties took part in a primary election to narrow candidates down to one per race, but fringe groups might nominate rivals.
Among possible tricks, the Liaison Office might put 'fake' democrats onto ballots, and shameless and lame Hong Kong officials have talked of reducing polling stations' hours, which would boost the pro-Beijing camp's chances. The Communists' most powerful weapon to rig the election would be to bar pan-dem candidates from the ballot on ideological-test or other grounds. Edward Yiu thinks they wouldn't dare. You can see how it could backfire – but when Leninists try to subvert democracy, there's no such thing as too much.
One thing the pan-dems could really use is some serious, focused message-management – though that's hard to imagine. Part of the problem is that they're spoilt for choice when it comes to attention-grabbing issues, thanks to Beijing's clumsily tightening grip and the local government's incompetence.
One obvious example would be new Justice Secretary/old-illegal-structure owner Teresa Cheng (if she's still around). An intriguing fact the media have found from the Lands Registry is that the price she paid for her Tuen Mun property in November 2008 was more than double what the previous owner paid just 10 months before…
FAST STEP INVESTMENT    22/06/07    HK$9.80mn

RICH PORT INVESTMENT   25/01/08    HK$12.68mn

SPARKLE STAR DEV'T           18/11/08     HK$26.00mn
I'm sure there's a perfectly rational explanation.
Another populist cause would be to call for the conversion of Fanling (and indeed other) golf courses to affordable housing. The South China Morning Post's editorial ponders this today, and makes a heroic attempt to justify keeping the space as a reserve for the mentally deficient wealthy. We are invited to believe that we need some bore-fest called the 'Hong Kong Open', and that this and another thing called 'player development' are necessary to our city's global standing (in a way that homes for people to live in, obviously, are not). It's enough to give 'balanced social diversity' a bad name…

I smell a vote-winner!