David won against Goliath. And the little Dutch kid overcame disaster by sticking his finger in the dyke. But Hong Kong's pro-democracy lawmakers will not succeed in preventing pro-Beijing forces from rewriting the Legislative Council's rules to reduce the impact of such delaying tactics as filibusters.
Some brief background… LegCo is a relatively weak body to start with. Although they represent the majority of voters, pan-dem members are outnumbered because of the rigged composition of the chamber. To compensate, they became adept at using delaying tactics to disrupt things like government spending approvals. However, by bundling popular measures with the usual garbage ones, the government has been able to portray pan-dems' obstructiveness as chaotic and damaging to the public interest. This has lost them public sympathy.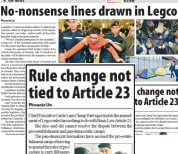 The pan-dems are now bogged down in predictable embarrassing protests and whining about the details. The government is pretending it's an internal matter for the legislative branch.
The pan-dems in LegCo are mostly of the mainstream/older-generation who are obsessed with procedures and structures, and trapped in the dream that constitutional wrangling can lead to democracy in Hong Kong.
There were more of the younger, radical pan-dems in LegCo, but they have been disqualified or even imprisoned, and some may also be bankrupted. The proposed procedural changes are simply part of this bigger pattern – the Chinese Communist Party has decided that the Hong Kong Legislative Council is to become a ceremonial, rubber-stamp body like a People's Congress on the Mainland.
This is not up for negotiation. Yet the old mainstream pan-dems still have not realized the post-2014 reality: you cannot use Hong Kong's de-facto Leninist-style constitution against itself.
A charming but sad example is the pro-dems' warning that the LegCo procedural changes will 'pave the way' for the passing of Article 23 national security laws. The days when the Communists thought LegCo was necessary for that are over. The law (as with oath-taking) will be whatever they say it is.
Hong Kong's opposition – liberate your minds and stop thinking LegCo is real.