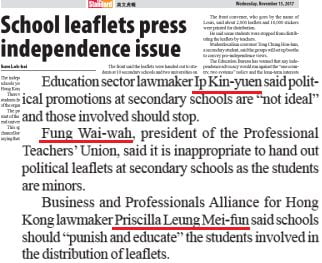 The Mouth-Froth Red-Light National-Security Freak-Out Alarms went off twice yesterday in Hong Kong.
First of all, kids distributed  pro-independence leaflets at schools. Under Hong Kong's legal system, there is no distinction between handing out leaflets advertising pizza delivery or calling for independence. But while we are waiting for Beijing to impose Mainland-style prohibition of splittism and sedition, uncertainty is spreading to the extent that usually-eloquent commentators are too panicky to speak.
The education sector lawmaker says the pro-independence activity is 'not ideal'. (Ideally, presumably, he wouldn't be asked to go on the record about this subject.) A moderate pro-democracy teachers' group claims it is 'inappropriate as the students are minors'. (Perhaps parental guidance is advised.) What should be a simple free-speech issue is too sensitive to process. All these people can manage to say is: 'I am morally confused and too petrified to express a coherent belief'.
Oddly, the only public figure with a grip on her principles and ability to talk straight on this is pro-Beijing lawmaker Priscilla Leung. She wants the kids 'punished and educated'.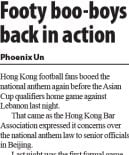 For a more robust response to creeping Mainlandization, we have Hong Kong soccer fans, who last night yet again booed the Chinese national anthem. 'In extreme cases,' the shocked Standard reports, 'a few fans turned their backs, while some even raised their middle fingers'. Elsie Leung would have swooned.
Stadium security guards' valiant attempts to instill respect by waving their arms had, inexplicably, little effect. Such jeering and mockery comes 'despite' (as the media put it) increasingly shrill warnings about forthcoming laws imposing stiff penalties on people who do not stand straight for and adore the anthem. Following this latest display of disrespect, pro-Beijing figures will demand that the new law be so retroactive that it covers unpatriotic offenders' past lives.