Hong Kong Chief Executive Carrie Lam admits to feeling hopeless (in sense 1, not 2). Clutching her pearls in desperation, she tells RTHK that she wants to bring a divided society together, but controversies get in the way.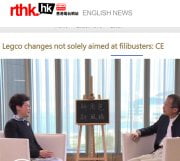 What she doesn't mention is that these controversies are policies that Beijing is ordering her to implement as part of its strategy to Mainlandize Hong Kong – force the city to become more like part of a Communist one-party state.
They include: disqualifying elected opposition lawmakers; reducing the Legislative Council's (already weak) powers to obstruct the Executive; the imprisonment of high-profile protest organizers; politically correct Chinese History classes in schools; and the forthcoming Compulsory Standing Up Solemnly for the National Anthem Law. There's also the stationing of Mainland officials at the Kowloon High-Speed Rail Station – a more technical issue, but clearly arising from a Mainlandization-inspired infrastructure project.
The transition from CY Leung to Carrie is a switch from someone who visibly enjoyed implementing Mainlandization to someone who finds it agonizing and nerve-racking – but the course of Mainlandization itself must continue unaffected either way.
If this is the Chinese Communist Party's idea of sugaring the pill, it doesn't seem to be working. The soccer fans seem no less keen to mock the national anthem. And Carrie can't even do the basic stuff.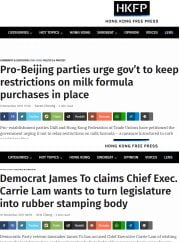 Despite his Communist-psycho-billionaire background, CY did noodles-with-grassroots photo ops with ease and implemented a few populist measures. Carrie is a colder, more aloof and out-of-touch figure who seems to find people in general perplexing or just distasteful. After her clumsy reaction to the Gay Games, her administration is now talking about easing rules against cross-border trafficking of infant formula – a move that panders to a handful of retailers and landlords while needlessly angering everyone else.
While CY was deliberately obnoxious and provocative, Carrie does it accidentally and without even realizing it. Still, it's just style – the substance of Mainlandization will grind on.
I declare the weekend open with the thought that Carrie is not alone in being out-of-touch: the older mainstream pro-democrats also inhabit another world. Lawmaker James To accuses Carrie of wanting to turn the Legislative Council into a Mainland-style rubber stamp. He is wrong – this is 100% a Beijing decision, and Carrie is just the hapless minion carrying out instructions. It's a critical distinction, and it's stupid to blame the wrong person. Why can't/won't the Democratic Party accept that the high-autonomy, one-country-two-systems thing is over?