The Gods of Toil are wreaking vengeance upon me this week, so just time for the daily indispensable China link – The Rise of Xi.
And not forgetting The Strange Case of the Rose-Hued Illumination of Seedy Entranceways. Strolling along Queens Road West recently, past the funeral-offerings shops, past the dried goods stores, getting on towards the no-mans land before hip, trendy Kennedy Town starts, I saw a crummy door with a pink strip light outside it. I would have thought no more of it, but then I noticed a pattern – dilapidated walk-ups* with alluring, enigmatic pink lights…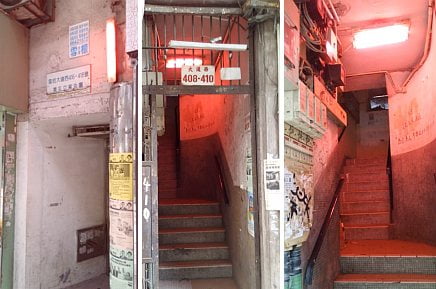 I can think of various explanations – ranging from a recent local sale of gaudy lighting, to ancient feng shui wisdom, to murky goings-on. We will probably never learn the truth.
(*OK, one other.)