Even by the standards of the South China Morning Post's questionably-named Insight op-ed page, this column from last Friday is a classic. We can summarize the (approx) 1,000-word opus thus: democracy is not perfect, so let's solve our problems through discussion.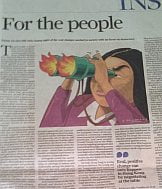 Most of the article refutes democracy with elaborate reference to Chris Patten, Bosnia, Nazi Germany, Rwanda, Geert Wilders, Marine Le Pen, Brexit, Trump, Occupy Central-as-Red Guards, Pol Pot, etc. The remaining few paragraphs suggest that if Hong Kong people (not really defined) focus on ends rather than means, they can solve the housing, health, elderly problems 'by discussing'.
The author doesn't specify who talks with whom here.
His underlying assumption is that: "A system [whether democracy or any other system of governance] lives for the people – not the other way around". This is possibly not quite the right thing to say just after listing Nazi Germany, Red Guards, Pol Pot, etc.
It is also hard to reconcile with the Chinese Communist Party's clear primary, indeed sole, purpose – namely to keep itself in power, which can only be possible ultimately if the people serve the regime, not vice-versa. By extension, it will not apply to Hong Kong's local government, appointed by the CCP with a clear mandate to preserve the interests of Beijing's preferred cronies and cartels. The CCP and its lower tiers in the power structure do not 'negotiate' or 'discuss' with the people. The people's role is to shut up and obey.
The author arguably has a point when he says that calling for democracy is pointless.