Just time for a quick, freakish and nightmarish glimpse of reality to intrude today. A shadowy Mainland conglomerate that no-one seems to own wonders how to cover the US$3.5 billion it blew on some Hong Kong land earlier this year, and find another US$10 billion to build ultra-high-class exclusive concrete boxes upon it.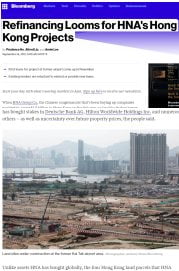 The conglomerate has US$90 billion in debt already, so you could argue that, hey – it's just a bit more. But banks are, as the Bloomberg URL puts it, 'leery'. The apparently anonymous ownership of the murky conglomerate overlaps in some notional Venn diagram with the thuggish totalitarian Communist Party kleptocracy that controls China, which implies that it is fine to lend away. But then again, maybe Beijing has had some tiffs with its mystery moguls who pay bizarre prices for humdrum assets, and is nervous about unspeakable levels of debt in the overall system, so the banks have second thoughts.
One option is for HNA to re-sell some of the land. Since we are indulging in reality here, it would inevitably be for less than they paid for it. In slightly more human-scale terms of tragic humiliation, this would be like a socialite publicly taking a just-bought diamond-encrusted Louis Vuitton handbag to Milan Station because her credit cards were cancelled. Obviously it won't happen (the article mentions alternatives). And the safe, comforting, usual fantasy-weirdness of Mainland political-business elites, their physics-defying financing arrangements, and extraterrestrial real-estate valuations will resume.