The start of the academic year heralds a flurry of Hong Kong independence posters on campuses – and a patriotic backlash from Mainland students. University administrations struggle to come up with a cohesive stance. They are, of course, dedicated to freedom of thought and expression. But they are also, inevitably, keen on shoe-shining the government that subsidizes them, and no doubt politically-connected bodies that allocate research funding.
When pushed, they follow local officials' line that pro-independence talk 'goes against' the Basic Law. This sounds scary if you think 'goes against' means 'breaks'. But of course it doesn't – it means 'disagrees with'. There's no law against that. Not yet, anyway. The local officials use this ambiguous type of phrase because they cannot 'go against' their own masters in Beijing, who have previously declared splittism forbidden.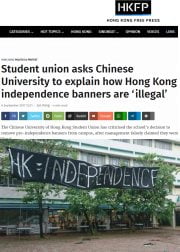 And then along comes Ronny Tong, the lawyer and former pro-democrat legislator who has turned into a pro-Beijing semi-lackey. (He considers himself a middle-of-the-road ultra-moderate able to look both sides in the face equally. At best, this is a quaint conceit: the Chinese Communist Party divides the world into two factions: obedient loyalists and the enemy; it doesn't do 'middle-of-the-road'. At worst – well, there have long been scurrilous murmurs hinting that he is vulnerable to persuasion.)
So Ronny suggests that while the use of particular words may not be illegal, the action of 'publishing with seditious intent' may infringe Section 9 of the Crimes Ordinance. Apparently, under this law (which presumably dates back to 1580 or something) it is illegal to do things like…
"…bring into hatred or contempt or to excite disaffection against the person of Her Majesty…"
Although, in the spirit of jolly British fair play, you are in the clear if you intend…
"…to show that Her Majesty has been misled or mistaken in any of Her measures…"
…(as if!) among other loopholes. The maximum penalty is to be burned at the stake while having your entrails drawn and fed to pigs. (The link says 1997 – maybe they've updated this thing?)
Ronny is no doubt trying to be helpful – though I'm not sure to whom. A sedition trial of Hong Kong kids is the last thing the city's tormented leaders need.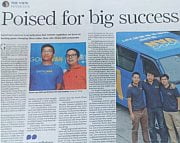 I declare the weekend open, after reading of the GoGoVan non-tycoon-class success story, with a chicken-and-egg conundrum: Does Hong Kong's economic structure cause its political structure, or does the political structure cause the economic structure?