The Hong Kong government is going into Maximum Righteous Hypersensitive Whiny Defensive Mode over foreign media suggestions that the city now has political prisoners.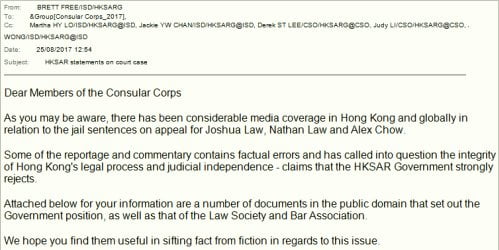 The official line is that the appeals for tougher sentencing of Joshua Wong and other young protesters were in line with rule of law and due process, so End of Story. The definitive version is Secretary for Justice Rimsky Yuen's 'Factual Account' published everywhere last week. It describes the step-by-step mechanics that led to the young radicals' imprisonment and baldly states that the decision-making involved was not political.
Meanwhile, the legal profession provides a useful diversion by insisting that it is unfair and indeed dangerous to suggest that the Court of Appeal judges bowed to political pressure. The lawyers quote from an earlier statement defending judges who were attacked by pro-Beijing forces.
But neither of these lines of argument addresses the big picture, which is what local and overseas critics are looking at. In the last few years, the Hong Kong authorities have become visibly less tolerant of particular types of political opposition. It used to be OK for lawmakers to add slogans to their oaths of office, now it isn't. It used to be that no-one was barred from the ballot for their beliefs, now they can be. It used to be that the cops and prosecutors broadly protected the right to protest; now they do so far more narrowly.
This is a highly selective shift. The government has not cracked down on lawlessness in general – punishment for triads, illegal immigrants, tax-dodging or traffic offences have stayed the same. It is targeted at a particular strand of political opposition and activists. And there's tons more of this to come. The more the government bleats that this is all in accordance with due process, the more it highlights this shift to 'rule by law' persecution and suppression of dissent.
Yet bleat they will, out of frustration as much as anything else. Unlike her patriotic predecessor CY Leung, Chief Executive Carrie Lam takes no pleasure in the prospect of Hong Kong becoming part of a Leninist dictatorship. She and (most of) her fellow bureaucrat-officials bask in the right sort of Western media attention, like when a think-tank pronounces Hong Kong the World's Freest Economy. But they fall to pieces when they are caught helping to fulfill, as they must, the Chinese Communist Party's paranoid and malevolent obsession with crushing hostile forces. They don't even want to admit it to themselves – let alone explain it to the New York Times.