A few months ago, Hongkongers were bemused by the obliviousness of the woman Beijing was choosing as their city's next Chief Executive. Carrie Lam didn't know how to use an MTR turnstile, and couldn't work out how to buy toilet paper. She publicly laughed at her own ineptness, so it seemed slightly endearing (if you could see the funny side of it).
Off-camera, when consulting 'various sectors' ahead of the quasi-election and working on her pretend-campaign, there was less scope for flippancy. On at least a couple of occasions I heard of, she was visibly shocked to hear gruesome details of issues like subdivided housing. "They don't tell us about this in government."
Now she admits that she had no idea before then that young people in Hong Kong were so disgruntled.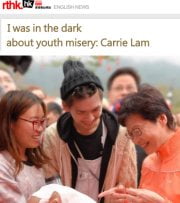 So in all her years in top bureaucratic and ministerial positions, she did not notice that the mass of her fellow citizens, especially the young and educated, were growing angrier and more alienated. For two decades, she did not perceive that the Hong Kong government's only real policy was to serve parasite cartels by distorting supply and demand to ramp up land values, property prices and rents. And in late 2014, as the whole world watched the Umbrella Movement occupy three separate parts of the city, she was distracted – perhaps away in the South Pole or something.
It is tempting – even comforting – to think she is exaggerating her ignorance, acting dumb in order to save face as her new administration gropes desperately for Communist Party-compliant, tycoon-friendly policies to give the young hope for the future. But (as with her earlier on- and off-the-record reactions to reality) she sounds candid about the fact that she has no knowledge of anything unless it appears in a memo or briefing paper. And unaware that the rest of us might find it unusual, let alone scary.
On the subject of the 'unusual-to-scary' part of the political-events spectrum, I declare the weekend open with (for anyone who's missed it) with the latest swamp-management antics in DC, guaranteed to put helpless and hopeless Carrie into hug-able perspective.