Interestingly, the South China Morning Post's 'disappearing Shirley Yam column' story hasn't attracted much attention outside Hong Kong, at least as yet. Maybe it's because – unlike the Asia Society censorship affair – there's no US angle.
But maybe it's a reflection of the bizarreness of the article's existence in the first place. In the darkness of the megalomaniac paranoid Chinese Communist dictatorship/shoe-shining tycoon milieu, those few hundred words imperiled Xi Jinping's grip on power and/or Jack Ma's not-totally-unrelated, almost-as-vast Alibaba empire. The pulling of the story is a reversion to 'dog bites man' normality. (Which leaves the question: why did the column appear at all?)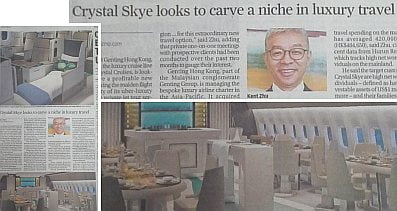 Can't blame the Post's business section for sticking to something safe today. At least from the publisher's point of view. To financially prudent readers, operating a Boeing 777 in an 86-seat, all-first-class configuration might sound idiotically risky.
The (more-or-less) puff-piece concerns a company called Crystal Skye, part of Malaysia's Genting group. The concept takes an outdated and wretchedly tedious method of travel, the cruise-ship, and wraps it in the modern soulless efficiency of a wide-bodied jet airliner. The enticing Unique Selling Proposition: a US$45,000 luxury week in Tahiti. Exclusive, exciting, etc, of course.
Obviously this product is not aimed at sensible wealthy folk who understand, like veteran fund manager Jack Bogle, that chucking money down the toilet is stupid. It is aimed at nouveau-riche Mainlanders. They started off buying inane designer-label garbage in Hong Kong, and then Paris, before going on to thinking the mind-numbing Maldives was a cool vacation spot. Maybe Crystal Skye has identified an amazing opportunity and a last chance – grab their money as they climb the giraffe-viewing tree, before they wise up.
Shouldn't think so despicably, but I'd love to see (at a distance) the scene in the fancy 'restaurant' with its wah-so-high-class bone-china plates-upon-plates, when the plane hits the inevitable turbulence.
I declare the weekend open with – what is it? Art? Journalism? Archiving? Nostalgia? Eulogy? Re-cycling? Hong Kong Hermit stitches together, in chronological order, nearly two hours' worth of six-second (too short to possibly be boring) Vine video clips from the Occupy/Umbrella movement.