Anyone still looking for the vanished Forbes article on the Great 2017 Asia Society/Ronnie Chan Panda-grovel Censorship Massacre will find it here, all on one page, convenient to read and/or save somewhere in case it disappears again.
It remains to be seen what, if anything, the venerable, esteemed and righteous Asia Society itself will do about this embarrassment.
We are assuming here that there is an entity called 'the Asia Society' that is separate from an entity called 'Hong Kong billionaire using fortune to buy venerable esteemed institution to suit Communist dictatorship'. If they are in fact largely the same thing, there is nothing for the organization to fix – except perhaps remove the 'N' from 'NGO'.
A Wall Street Journal column wonders why the US doesn't hit China's elites where it hurts (the cause being North Korea, but feel free to add your own favourite offences against Western interests and/or decency) by denying rulers' kids visas for Harvard (and other venerable esteemed seats of learning).
Common threads here: 'venerable' and 'esteemed', but also Ronnie Chan, major donor to the university (along with his brother – lengthy glowing background for the truly bored here). As with the Asia Society, perhaps fancy universities are already partly merged with the Chinese Communist Party Soft Power Hong Kong Tycoon Sphere of Benevolent Influence. On a brighter note, the US visa-issuance system remains beyond the greasy clutches of Pro-Beijing HK tycoons (I think).
Hong Kong's own upstanding defenders of core values are also being absorbed into the CCP's United Front. Behold – the Independent Commission Against Corruption is investigating the owner of a political parody/satire website. The ICAC have to act on any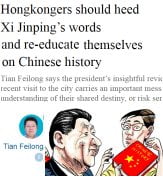 complaint, so it could be that they toss this aside as a nuisance call. Otherwise, we enter that zone where parody/satire and reality are hard to tell apart.
Which brings us to the South China Morning Post, which carries yet another diatribe from Tian Feilong – the Leninist dictatorship's most counterproductive apologist, whose latest idea of smooth-talking seduction is to rant: "Twenty years after the handover, Hong Kong people still have some way to go in learning to think like an adult." I'm not sure at what stage in the writing-commissioning-publishing process the CIA gets involved, but it works.