The latest Gullible-Tourist Tat Outlet to open in the old neighbourhood calls itself Mon Cher Osaka Dojima. It follows in the tradition of Jenny Bakery's unremarkable cookies and Horng Ryen Jeng food-safety-hazard sandwiches – taking perfectly decent flour, sugar, eggs and butter, and turning them into witless overpriced crap with plasticky 'authentic' branding that somehow impresses the endless streams of Mainland and Korean visitors.
The Hong Kong government's investment-promotion bureaucrats claim credit for attracting the Japanese cake chain here, thus bolstering our city's position as a leading international business hub. If you want a HK$200+ Swiss roll, this is the place…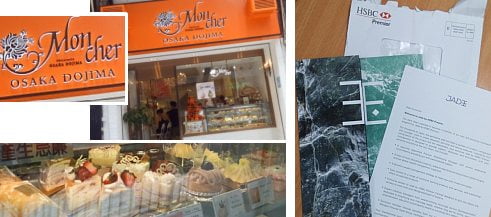 Meanwhile, a genuine venerable brand – HSBC – sends me one of its regular cringe-making desperate pleas for attention. While the long wait for higher interest rates and thus lending margins continues, the bank embarks on its millionth effort to mesmerize me with flattery in such a way that I eagerly call up its insurance salesmen. The lure today is 'new and exclusive' membership of something called 'Jade by HSBC Premier'.
Where did this pretentious 'X by Y' construction come from? There is a chain of supermarkets in Hong Kong called 'Market Place by Jasons'. I vaguely suspect it has its origins in restaurant franchises using famous chefs' names.
Anyway, this oh-so-classy banking concept (?) is inspired by the supposed ancient symbolism of jade – highly priced but ultimately useless metamorphic rock made of silicates, the most abundant material on the planet. The Exciting Unique Value Propositions include Expert Lifestyle Managers to simplify my everyday needs (assuming not having Expert Lifestyle Managers doesn't work) and access to Expensive Tiny Hotels of the Globe™…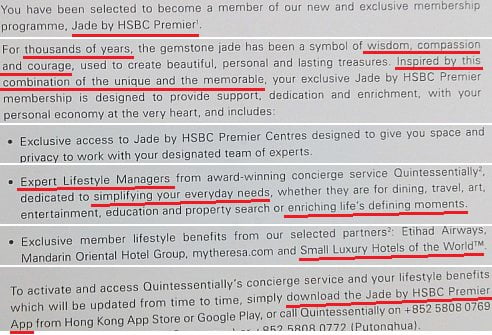 The good news is that you have to download an app, which – something tells me – isn't going to happen.
Even better news: highly affordable, non-exclusive Plankton Soda by Pokemon…