The Financial Times notes that General Secretary/Chairman/President Xi Jinping's hardline approach to Hong Kong is perversely almost guaranteed to further alienate the city's people. This has much to do with the style of Beijing's officials when they deign to address the local population – the imperious, belligerent, intolerant, ranting, Communist, Mainland, Mandarin-language, red-flag-waving hysterics and obscure slogans leave the local audience cold. Surprisingly.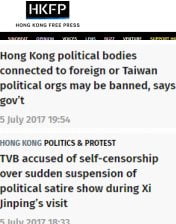 Meanwhile, the day-to-day chipping away of freedom continues, and perhaps has a more numbing effect. Today brings two examples of instinctive self-censorship as pre-emptive kowtowing.
Mainland-linked broadcaster TVB lashes out after being criticized for cancelling an RTHK political satire show during Xi's visit. Pro-Beijing figures have long detested public-funded RTHK for upholding editorial freedom after commercial stations have mostly embraced a more 'patriotic' bias. TVB's aggressive stance suggests that it sees RTHK on the retreat from 'public-service' to 'government broadcaster'.
And we learn that the Asia Society in Hong Kong recently banned activist Joshua Wong from speaking at a book launch (which he didn't come to anyway, etc). The Society also wormed out of screening a documentary last year about the Umbrella Movement.
The Asia Society has impeccable old-style establishment roots (founded by John D Rockefeller III in New York in the 1950s) and still has a Davos-esque as well as arty-Orientalism feel (though I might be reading too much into it).
The Hong Kong branch is headed up by: property tycoon and raconteur Ronnie Chan; former HSBC CEO Anita Fung BBS (also a director of Ronnie's Hang Lung); Danish taipan Hans Michael Jebsen BBS; property scion Lau Ming-wai (who in his capacity as government youth advisor tells the FT above that, to local kids, Chinese leaders sound like they are 'from another planet'); Eric X Li, Mainland venture capital whizz and notorious TED Talk apologist for Leninist dictatorship; businessman Vernon Francis Moore BBS (formerly head finance guy for Mainland CITIC conglomerate); and another former HSBC boss, John Strickland.
(The concentration of Bronze Bauhinia Star holders is interesting: it is Hong Kong's lowliest-almost-insulting medal for the Great and Good, which possibly reflects official distaste for these individuals' cultural and international proclivities, by Hong Kong 'elite' philistine standards. Apart from Mainlander Li, the others are all Grand/Gold Bauhinia awardees.)
Now, following meetings between Hong Kong localists and Taiwanese contacts, we have a hint of action against local groups having links with Evil Hostile Foreign organizations. Despite the leading question from a pro-Communist lawmaker, the government's response sounds cautious. Let sleeping cans of worms lie. Still, if the Communist Party insists that Hong Kong goes down that road, Mainland-style paranoia about overseas-based charities, dance troupes, stamp-collectors' societies and other horrors is where we have to end up.
Stop press!!! Dangerously subversive event taking place at Asia Society later this month!!!