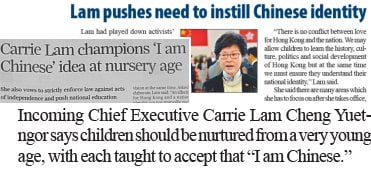 In case you didn't notice – too busy eagerly preparing to celebrate the 20th anniversary of the handover, perhaps – Chinese officials are bombarding Hong Kong with a new series of their ever-popular 'You Are Worthless and Powerless Ingrate Scum' charm-offensives.
Beijing's smooth-talking Zhang Dejiang has declared, in essence, that all that Basic Law, One Country Two Systems, autonomy stuff can be disregarded: Hong Kong is just another part of the wider Leninist dictatorship, and the shrieking and hysterics will continue until you all jump up and down with joy over it.
Former apparently-still-alive Xinhua official Zhou Nan joins in by adding that Hong Kong people have been subjected to 150 years of colonial brainwashing, specifically in a pernicious and devious form known as 'an absence of National Education'. The only remedy is the swift introduction of this missing ingredient, at high intensity and maximum volume.
These two guys are of course wielding the stick. For a bit of warm and cuddly carrot, along comes Tian Feilong (the Mainland legal academic and expert who criticizes foreign judges for sentencing cops according to the law).
Tian, seeing Hong Kong opposition groups becoming increasingly radical, lavishes praise upon the Democratic Party for its moderation. All they need to do now, he says, is: 1) stop advocating democracy; 2) accept that Hong Kong is China's to mistreat any way it wants; 3) start seeing everything from a national CCP perspective; 4) understand the interdependence of Hong Kong and motherland; and 5) acquire sufficient and correct knowledge about the nation, One Country Two Systems and everything. Henceforth to be known as The Five Shut Up and Start Kowtowings.
Our next Chief Executive, Carrie Lam, is caught between this paranoid and psychopathic Beijing on the one hand, and the 7 million people of Hong Kong and the other. She deserves our sympathy.
Her initial (and sensible) reaction is to pat the paranoid psychopath sovereign power gently on the head, and assure it that she will make sure toddlers learn to say 'I am Chinese' repeatedly as soon as they enter kindergarten. This will buy her a few weeks, perhaps, until the Communist Party leaders read the latest report on how the number of young Hongkongers who feel they are Chinese has shrunk to a slightly less-than-overwhelming 3.1% (hey, it was a small sample). Then the Beijing grim-faced ogres will be back, and unhappier than ever.
On a bright note, her hyper-capable new cabinet will be there to support and advise her.
You can now get back to those 20th anniversary preparations.