That rumbling noise in the distance is an avalanche of clichés heading our way. The international media's nostalgic reminiscing about that rainy day 20 years ago – the Union Flag being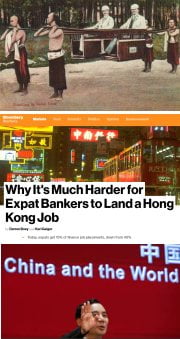 lowered for the last time, Prince Charles taking the last rickshaw to Kai Tak, etc – has already begun, but is fairly easy to filter out. Harder to ignore will be the hackneyed 20th anniversary space-filler-dressed-as-analysis on What Has Changed? written by order of distant editors.
Today's example notes that semi-qualified Brits known as 'FILTH' (which means blah blah) can no longer step off the boat in the colony and get a banking job before tiffin, with Royal HK Yacht Club membership as a perk – because demand today is for Mainland Chinese.
The FILTH-banker thing is perhaps part-myth, though I have hazy memories of a jolly late-middle-aged nonentity bumbling away for a long-vanished financial institution, spending millions on a Jaguar and an apartment for his dumpy mistress, losing all when the wife found out, and ending up in a straw hat and sandals drinking himself to death on Lamma. Would have made a good Graham Greene-style character, if he had had interesting secrets.
As the sun-setting-on-empire symbolism suggests, that is a lost and quaint little world of amateurs doing seedy deals for Southeast Asian shysters. It is now the 21st Century, and the big news is the Mainland whizz-kids: what are they doing, who are they working for, and whose money is it?
In fairness, sleuth-reporters are digging away (eg here and here), but no-one really knows what is going on. This is wealth on a vast scale, plundered or otherwise misdirected by the ruling elites of an evil dictatorship that is apparently on the verge of world domination (if you believe their charm-story) or about to collapse (judging from the capital flows). It is probably early days. So far, it seems safe to assume that in 20 years' time, we will not look back and recall how they end up broken and fading away in a stupor on an outlying island.
I declare the weekend open with more exciting 20th anniversary stamps – and I must say the artist's lack of enthusiasm and empathy for the subject comes through magnificently…