Problem: Hong Kong's mass transit system has become unbearably overcrowded because of Mainland tourists and their vast amounts of luggage full of milk powder, Yakult, toothpaste, non-fake quack medicine and more milk powder.
Solution: strip out seats from some carriages to create more space for Mainlanders' wheeled suitcases.
Problem: local residents resent the removal of their seats and having to stand on journeys, especially just to enable parasite mall-owners to hike rents for stores catering to cross-border smugglers capitalizing on corrupt Communist dictatorship forcing adulterated products on its citizens.
Solution: we have consulted government officials, and they say "Screw local people – we don't care about them."
Problem: front-line staff report difficulties relaying above policy to passengers.
Solution: put up signs suggesting that the seats have been removed for the benefit of unfortunates like the disabled, for whom notoriously soft-hearted local people will have sympathy…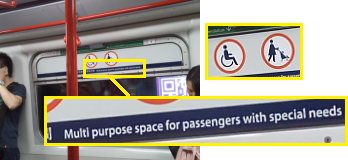 …it might work. Worth a try.