What an action-packed week it has been… The fake-trendy Pepsi TV ad, Trump spokesman Sean Spicer on Hitler, and United Airlines' passenger-deplaning methods provoked such vast global eruptions of mass-mouth-frothing that only a US strike on North Korea offers a prospect of relief.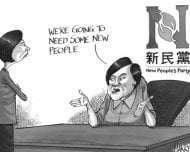 In sleepy Hong Kong, the construction fatalities, schoolkids' suicides and MTR breakdowns continued as usual. Few noticed or cared when textiles scion/amateur politician Michael Tien quit failed Chief Executive hopeful Regina Ip's New Peoples Party. (Notable exception: South China Morning Post cartoonist Harry.)
The little tiff is of no consequence, but it illustrates the quandary faced by the more moderate, secular parts of Hong Kong's pro-Beijing establishment. These are the political and other public groups and figures who work within the system while trying to attract the votes and support of the middle-class, educated, younger and social-activist constituencies who generally identify with the pro-democrat opposition. Without examining any murkier personal motives, theirs is a 'realist' position – that the best way to defend Hong Kong's interests is by cooperating with rather than fighting the Communist regime that is ultimately in charge.
The problem is that as Hong Kong becomes more rebellious, Beijing expects and requires its local loyalists to kowtow and obey more overtly – thus losing the moderates the credibility they seek among the city's pluralistic and freedom-loving population.
In her frantic attempt to prove herself worthy of the CE job, Regina horribly overdid the shoe-shining, and her sidekick Michael has now distanced himself accordingly.
Through its choice of local allies (tycoons and other parasitical interests) and its open contempt for local values and freedoms (illicit abductions, absurd persecution of dissenters), the Communist Party alienates a large portion of Hong Kong's population. At the same time, it expects poor wretches like Michael Tien and Regina Ip to win the support of the middle class and professionals. And along comes next Chief Executive Carrie Lam, hoping to achieve some sort of rapprochement, particularly with Hong Kong's younger, more educated community.
I declare the long weekend open by unveiling the Hong Kong Post Office's contribution – stamps celebrating 20 years' presence in Hong Kong of the PLA's 'Mighty and Civilized Forces'…