When it isn't trying to mastermind the development of the city's space-age whizz-bang IT-web-innovation-tech sector, the Hong Kong government and its numerous bureaucratic offshoots love to manage the growth and direction of the financial services industry. Among their many past obsessions are Islamic banking, Fintech (whatever it is), 'green finance' (ditto), and the endless Yuan offshore blah-blah stuff – all of a 'hub' nature, of course.
This hankering to out-do the private sector extends to offering actual retail investment products. Thus the (surplus-laden) Hong Kong government issues limited quantities of inflation-linked 'iBonds', giving lucky successful subscribers a higher yield than any bank deposit (or instant profit if they sell). The aim seems to be to make some small savers happy while spreading magic Asian Bond-Market Hub pixie-dust around the place.
Now, the government (in the guise of its HK Mortgage Corporation) is getting into the business of annuities. These are dreary retirement income products popular – I am guessing – among the sort of people who play golf. The benefit, presumably, is that they are easy to understand, at least as described by pushy insurance salesmen who make a 'lifelong income' sound somehow amazingly generous. In reality, since someone else is taking a cut, you would enjoy a better return if you invested the money yourself directly. Another drawback is that the lump sum is probably locked up.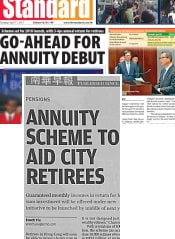 As with the government's iBonds, the HKMC annuities will be limited to a specific number of purchasers/amount of investment. The maximum investment would be HK$1 million, which would yield HK$5,800 a month – a big deal to those who can't afford a million, but not worth bothering with for those who can. Still, the payout is 3-4%. If this is linked to inflation, it is a very good deal for the lucky subscribers, and bad for the rest of us who will no doubt subsidize it in some way. But it presumably is not index-linked, otherwise the officials unveiling the thing would mention it rather than refer to the returns as 'fixed' and 'stable'.
By contrast, the Tracker Fund currently yields around 3%, which should more or less rise with inflation, and you can draw on the capital if you want, or leave it for your grasping heirs to enjoy after you go.
As with the iBonds, the initiative has no real purpose. It seems to be just another 'thing' for hyperactive, meddling bureaucrats to occupy themselves with while waiting for their handsome public-sector pensions.
In fairness to these particular officials, they can at least do their visionary work without launching real-estate projects. This contrasts with their colleagues' efforts at the high-tech hub at Cyberport, with its special high-tech luxury apartments, the arts-and-culture hub at West Kowloon, with its (planned) special arts-and-culture luxury apartments, or the innovation-tech-Shenzhen-toxic-swamp hub planned for the Lok Ma Chau Loop, with, you can be sure, lots of special innovation-tech-toxic-Shenzhen-swamp luxury apartments.
For sparing us the Sukuk Bond Hub-Zone concept with special Islamic Banking luxury apartments, they deserve a bit of gratitude.